The Benefits of Coworking Spaces for Startups
Finding the right office space for your startup business can make a world of difference for your organisation. It has the power to position your brand for success, especially in the early stages of life as a startup.
Before we dive into the plentiful benefits that this modern office setup can have for your business, let's answer the question: what exactly is a coworking space?
What is a Coworking Space?
A coworking space is a public workspace that can be hired as and when you need it. They appeal particularly to part-time and drop-in workers who have flexible schedules, so they can swing by the 'office' when they need to, without paying for space they're not using. 
Increasingly, however, they're appealing to new businesses that need office space without the routine hassle that comes with maintaining their own building.
What Makes Coworking Spaces Perfect for Startups?
The popularity of coworking spaces has blossomed in recent years. They're an accessible, stylish and flexible place to work, making them particularly attractive to entrepreneurs and professionals from a range of backgrounds.
This appeal, which transcends any single profession, is a key draw of coworking and one we'll cover in more detail throughout this article.
7 Benefits of Coworking Spaces
Below are some of the key benefits of coworking for startups. While not an exhaustive list, this gives an idea of how you can expect your business to profit from embracing this modern way of working.
1. Highly flexible working
Coworking is flexible by nature. You only pay for the space when you use it – whether that's a week at a time or just for a day.
Getting a startup off the ground is not a 9-5 job. It requires flexibility, the days often running at odd hours. This is what makes the partnership between startups and coworking spaces so appealing; they are tailor-made for each other.
2. No overhead costs
Startup businesses are busy. You want a workspace solution that keeps your schedule as clear of admin tasks as possible, allowing you to focus on the tasks that matter. 
Coworking spaces are managed by the building, meaning you don't have to worry about cleaning and maintenance. You simply turn up, plug in and get to work.
3. Enjoy a workspace that scales alongside your business
Because coworking spaces are designed to cater to multiple businesses, it stands to reason they're also flexible when it comes to the size of your startup.
The early stages of business growth can be unpredictable; you may go on a hiring spree and suddenly need more space. Or, perhaps you've been working with contractors for a short while and the partnership is coming to an end, meaning you don't need as large a workspace.
Coworking arrangements are perfect for this level of unpredictability; because you can hire them as and when needed, you can adjust the number of desks you need as well – on extremely short notice if necessary.
4. Networking opportunities
Networking is one of coworking's greatest strengths. You'll be sharing a workspace with professionals from a diverse range of industries and sectors. Some will overlap with your own, others won't; regardless, it's a great way to meet new people and form new partnerships which can have a proactive impact on your business.
Coworking spaces also typically have an adjoining recreation area, where you can exchange ideas and ways of working in a relaxed way – or even find new clients right on your doorstep.
5. Access to a wider network of talent
With professionals from a broad range of specialisms in close proximity, coworking spaces are great not just for networking, but for recruiting as well. 
In the early stages of your business growth, you may need to outsource tasks that your existing team can't perform. When coworking, you have essential access to talent outside your organisation's current capacity, some of which may be looking to partner with a business just like yours. You never know who you might strike up a conversation with – so, get networking!
6. Maintain a professional image 
Even as a startup, a professional appearance is everything. Coworking is the best of both worlds because:
It offers a flexible workspace that you can use when needed; no more, no less

It shows key personnel and stakeholders that your business is taking strides to operate in a stable and permanent capacity
Professionalism says a lot about a startup and having an office address – even if it's a coworking office – can make a world of difference in attracting new talent and making a good first impression with investors.
7. Accessible and centrally located
Last but not least, coworking spaces are often situated in central locations, positioning your business in the perfect location without breaking the bank. Central offices are a luxury that few organisations can afford, but even startups can benefit from life in economic hubs with the aid of a coworking space.
One example of excellent accessibility comes from the long-awaited and recently launched Elizabeth Line, which eases travel to and from central areas throughout London. For businesses using Us & Co's office spaces, for example, getting to our Stratford location has become a breeze.
Give Your Startup a Boost with a Coworking Space at Us & Co
Like the sound of an easily accessible, well-kept, flexible and sociable workspace?
Us & Co is a series of professional workspaces in London and Dublin. We currently house a number of startup businesses in each of our 3 locations, so if you're looking to join them in our attractive coworking spaces, we'd love to hear from you.
Contact us today to find out more about our flexible office spaces for rent, or book a tour of our facilities below.
In a corporate setting, the word 'training' is often met with a groan. However, it doesn't need to be this way – teaching your team new skills has the potential to be engaging and enriching when done right.
As with any corporate event, the successful execution of your corporate team training hinges on the strength of its planning. The old cliché rings true: "If you fail to plan, you're planning to fail."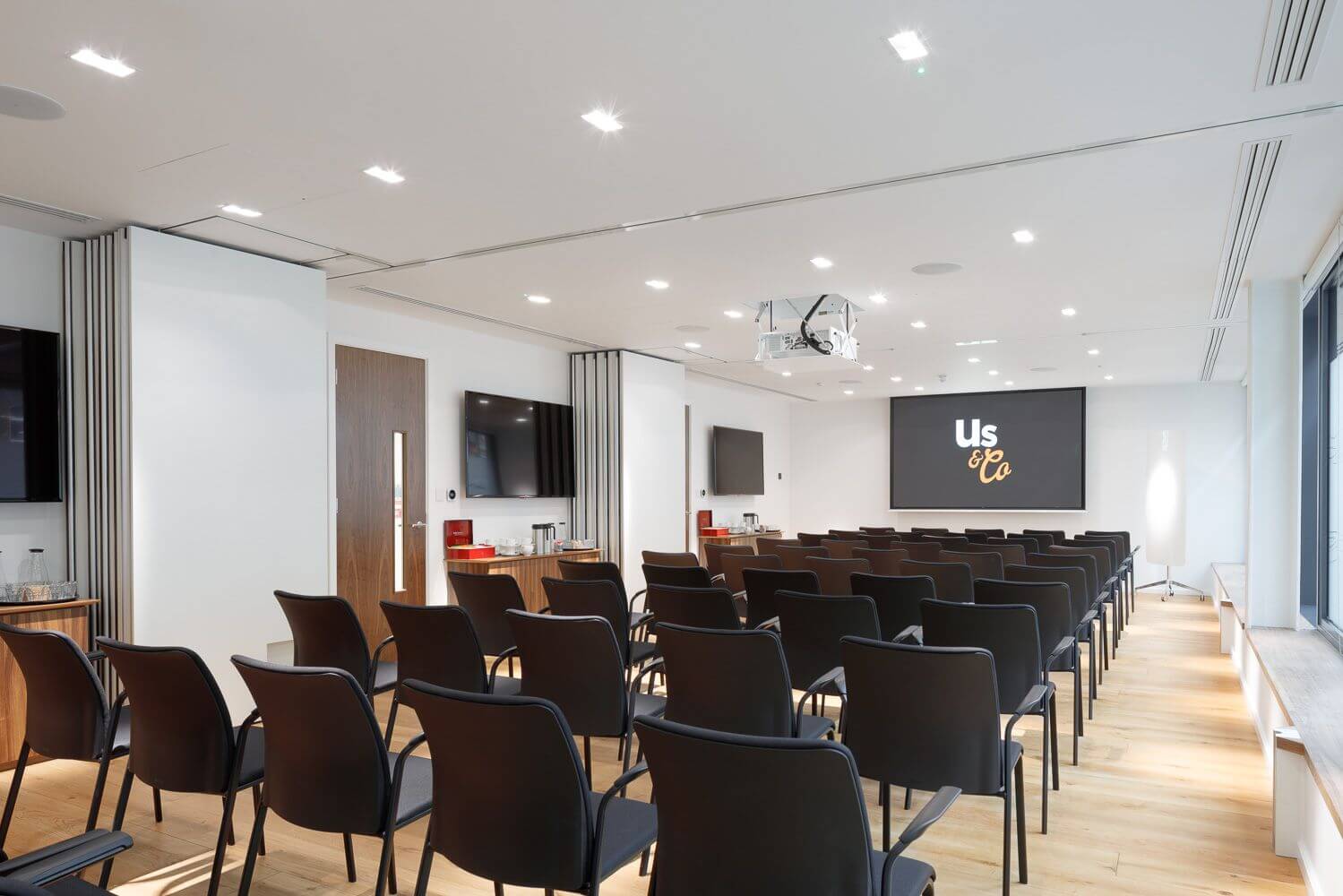 Making the Most of Your Next Corporate Team Training Day
To help your next team training event make a lasting impression and engage your employees, we've compiled this list of 8 steps to follow when in the planning stages. 
1. Start Planning Well in Advance
First and foremost, it's important to start the planning process early. We recommend getting the ball rolling at least a couple of months in advance – depending on the size and scale of your event, you might want to allow even more time. 
For example, if your training event is localised to hosting attendees from a single department, it won't require as much planning as a company-wide training day. Assess the scale of the training and plan accordingly. 
Planning early is important for the following reasons:
It lessens the inevitable stress of planning an event at scale

It gives you plenty of time to identify and address any logistical hiccups that might crop up

It allows you plenty of time to market your event internally. Giving your employees a heads up in advance can go a long way
2. Know Your Budget (and Stick to It)
This goes hand-in-hand with knowing the scale of your event. Budgeting is an important task in the first phase of planning, so consider how many people will be attending, how long it will go on and where it will take place. This will give you some idea of the budgetary requirements for the day, allowing you to plan accordingly.
Alternatively, you may be given a specific budget to work with right off the bat. In this case, you should stick to it, erring on the side of frugality when weighing up costs. 
Some of the key areas for training expenditure might be:
 A venue (if you're planning to host the training away from your regular offices)

Catering – will you offer lunch or just traditional refreshments?

Travel/parking for attendees

Guest speaker – if budget allows, this is great for generating interest in the event
Each event will be unique, so carefully consider the budgetary requirements for your circumstances.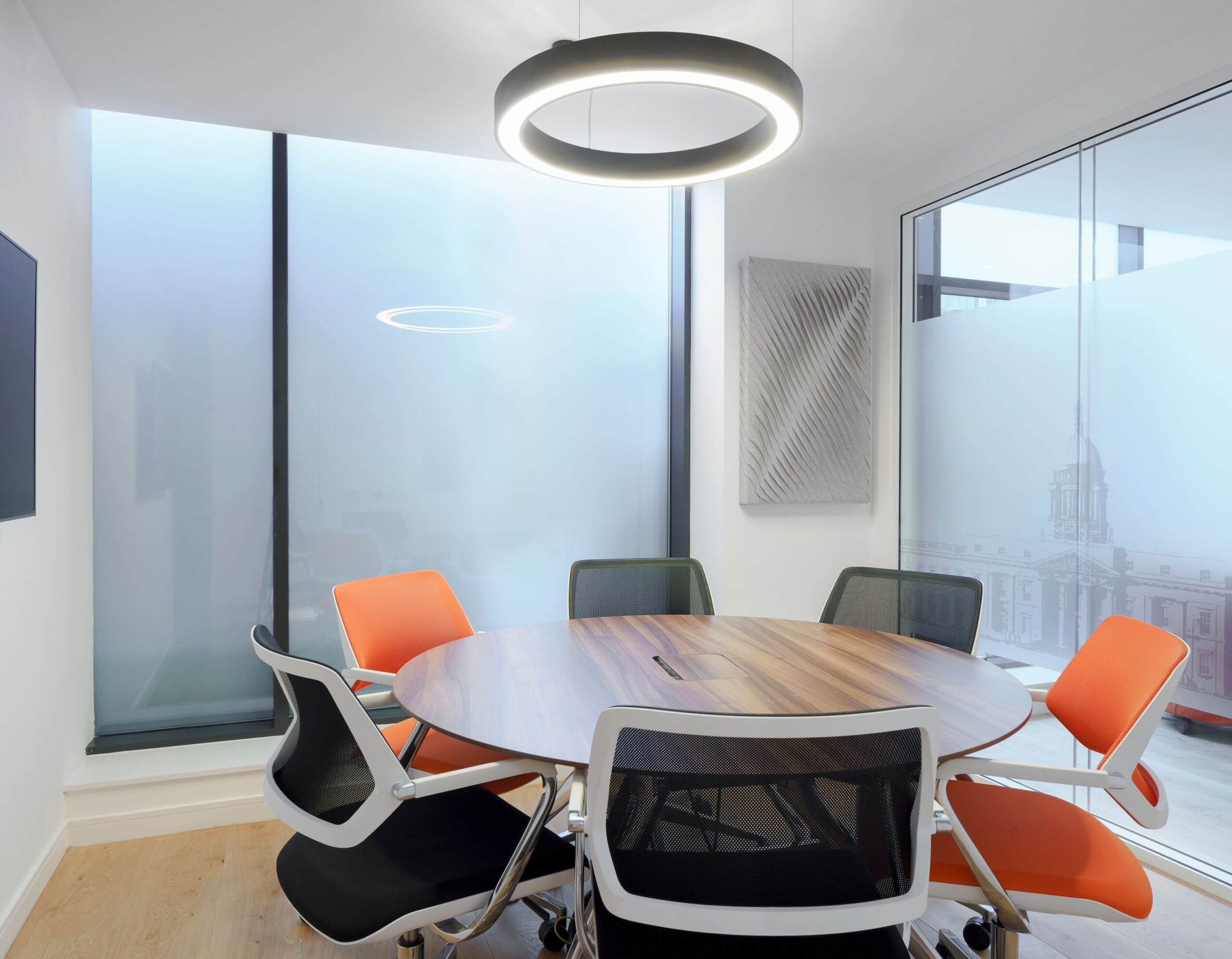 3. Designate Tasks to Your Team
Every successful event relies on the cohesive team behind it. One of the best things you can do is to assemble a trusted team of organisers to help you plan for success.
When you have your rough plan of action, choose the right people to help you bring it to fruition. This will depend on what you want from your event; the more intricate it is, the more hands you'll need helping behind the scenes.
With the right team, you'll mitigate organisational stress and free yourself up to focus on the tasks you do best.
4. Don't Forget Refreshments!
As mentioned earlier, it's important to provide refreshments for attendees. This is one of the surest ways to keep them engaged.
For full-day training, consider how you will facilitate lunch for everyone. Some event venues will provide catering services, while others will offer vouchers for nearby eateries. Or, if you have the means, perhaps you'll choose to handle catering yourself. Whatever you choose, consider the venue carefully, as this could have sway over the best course of action.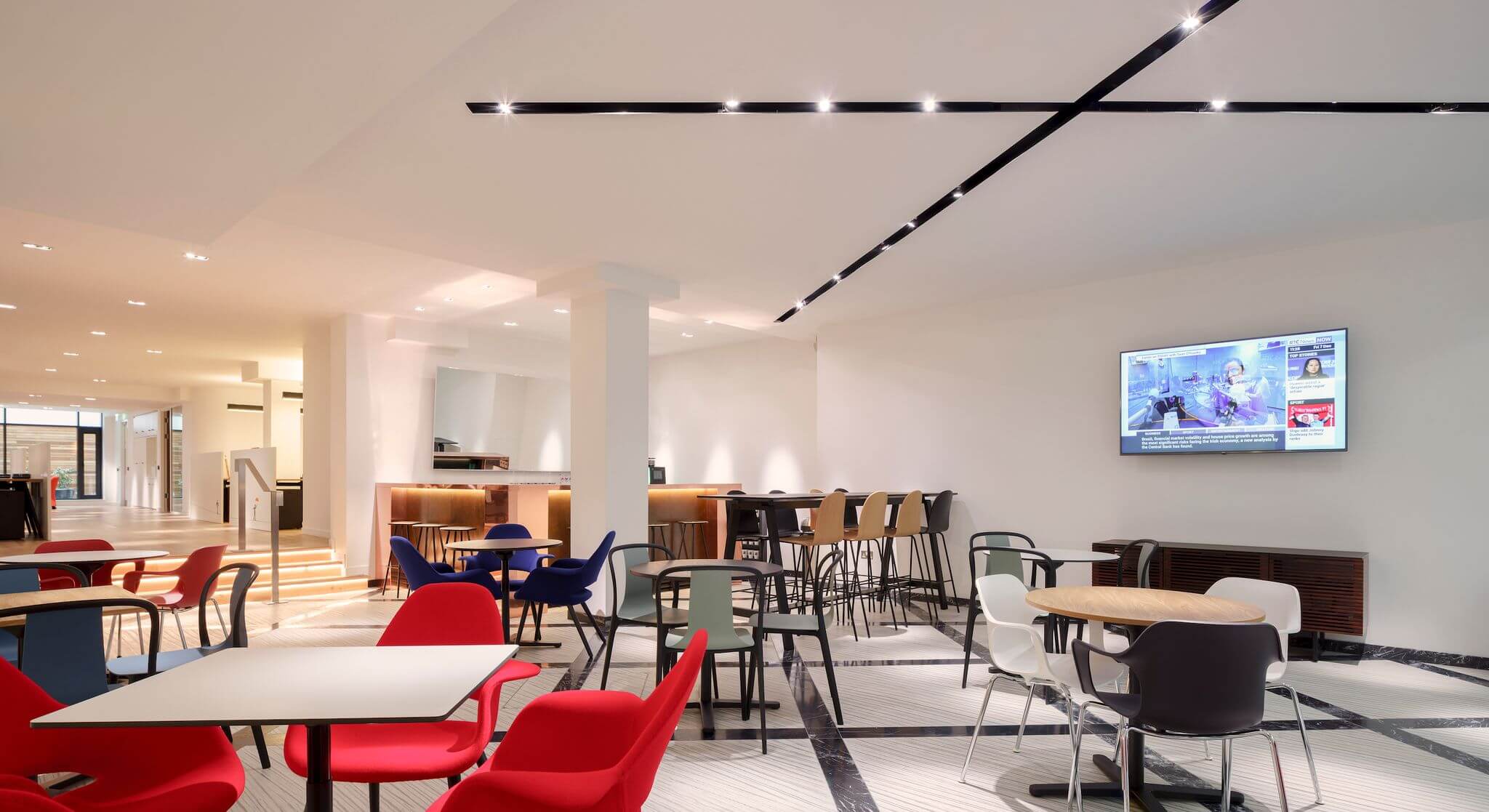 5. Accommodate Virtual Attendees
In a post-COVID world, perhaps not all your attendees will be able to make the training in person. If this is the case, be sure to plan for accommodating those dialling in via video call.
For virtual attendees, it's also important that you make the process for joining the event clear ahead of time – send a virtual invite for the meeting in advance and consider the logistics of hosting virtual attendees alongside physical ones.
Learn more about finding the right workplace solution post-COVID-19 in our blog.
6. Plan Your Training Material Carefully 
Whatever the theme of your team training – be it onboarding, cybersecurity, ethics, time management or anything else – choosing the right training material is key. 
Perhaps you'll be training your team with material produced in-house. If this is the case, familiarise yourself with it thoroughly in advance to make the training as seamless and free-flowing as possible.
Also, consider how the material will line up with other factors on the day. For example, if your training relies on audience engagement, consider the practicalities of this within your meeting space, as well as how you will engage those attending virtually.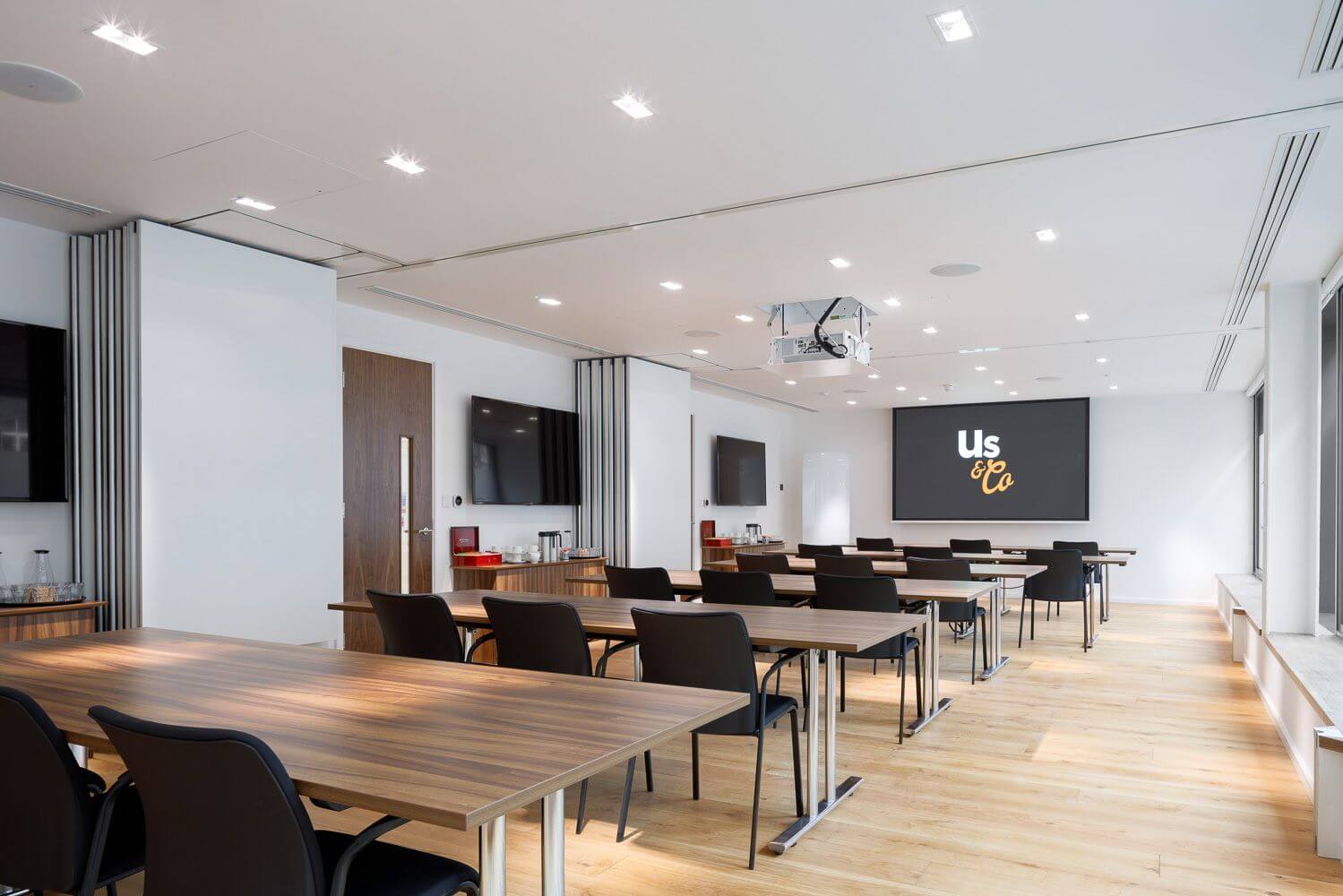 7. Engage Attendees with Practical Tasks
Employees are most engaged when they're actively participating in the training, rather than being spoken at for extended periods.
Aim to incorporate interactivity into the training to encourage participation – whether that's through group-based activities or by inviting attendees to share their experiences and opinions on any given topic. This is also a sure way to help attendees survive a long meeting in general!
8. Choose a Convenient Location with Good Facilities
Last but certainly not least, the location of your training is often instrumental in its success.
Choosing a meeting room or events venue in the right location and with the right facilities will play a large role on the day. A fully serviced meeting room in a central location is the clear winner, so if this is the route you choose, look out for the following facilities and perks:
Flexible hire solutions that cater to day-long and longer-term hires

Fully serviced and thoroughly cleaned facilities

On-hand staff to assist with setting up/any issues you run into 

A fully stocked kitchen and lounge area to offer networking opportunities to attendees

A convenient, central location with proximity to local amenities including parking and restaurants
Read our top tips on what to look for when hiring a meeting room in our blog.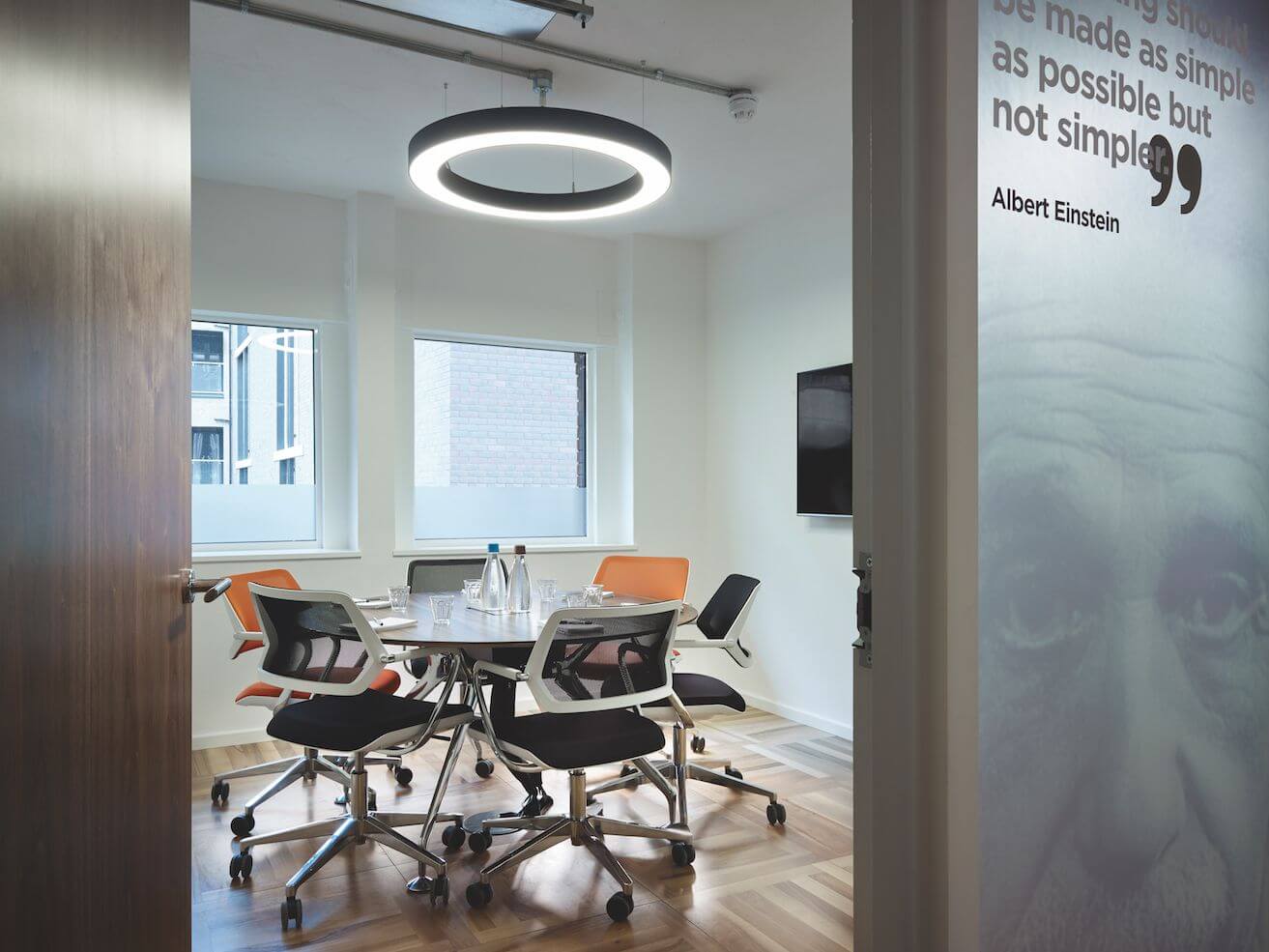 Enhance Your Corporate Team Training with Us & Co Today
Us & Co is a collection of professional and flexible workspaces in London Stratford, London Monument and Dublin, catering to all your business needs – be it a day office space or a hired meeting room in which to host your next work event.
With our meeting facilities and conference rooms for hire, you can make your next team training day a memorable and smooth experience. Contact us to find out more or book a tour of our facilities today.
How Co-Working Can Improve Workplace Productivity
Co-working spaces are one of the most exciting evolutions of the modern office. Flexible, affordable and extremely convenient, they represent a new way of managing your team's work environment, with a range of benefits that can supercharge productivity and creativity.
Workplace solutions post-COVID-19 have had to adapt to move with the times, which has influenced the rise in popularity of co-working. In this blog, we'll run through some of the noteworthy improvements incorporating a co-working space can have on your office routine – from both a productivity and practicality standpoint.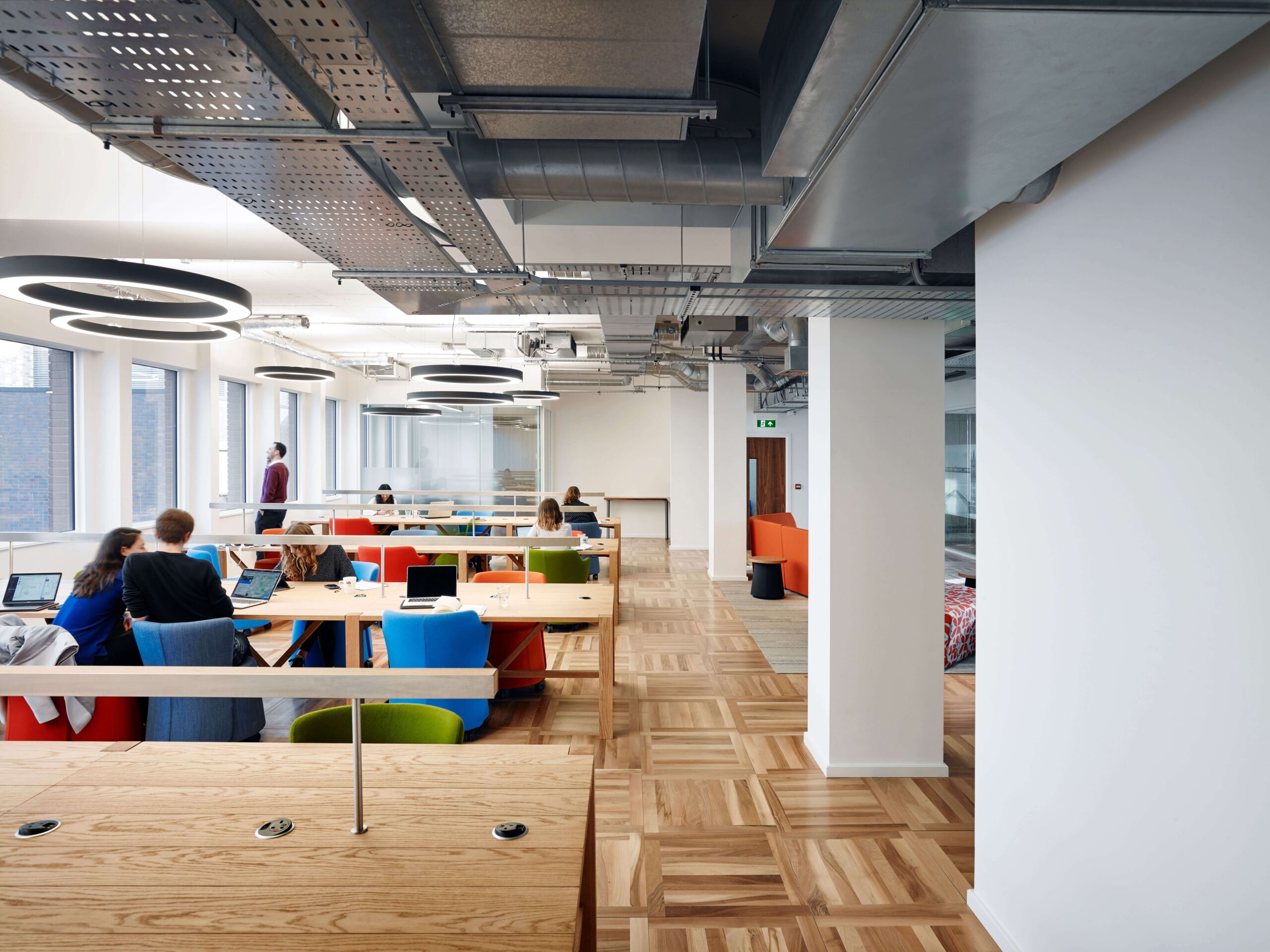 The Productivity Benefits of Co-Working
Below are some of the top benefits that working in a co-working environment can have on the productivity of both you and your employees.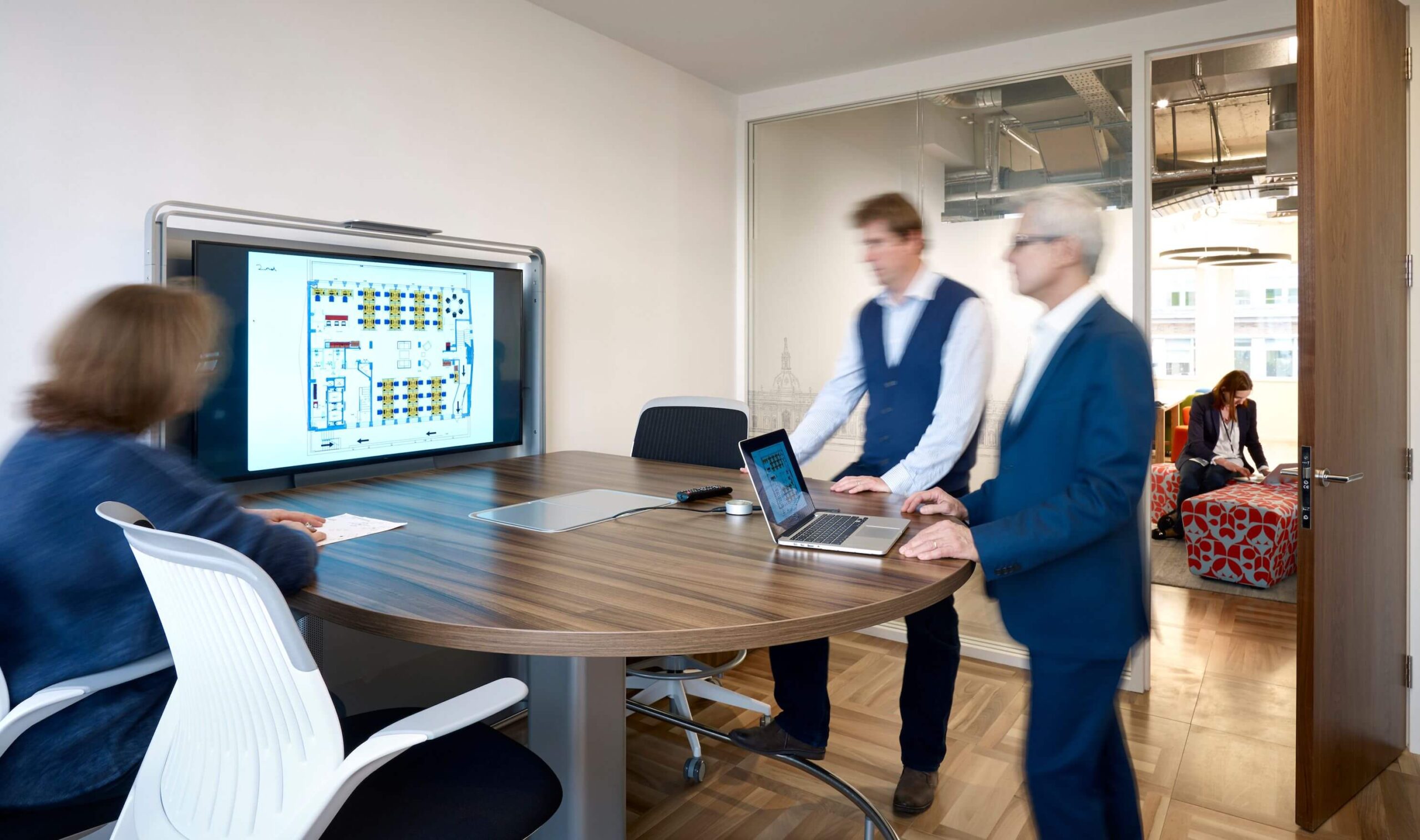 All the Facilities & Amenities You Need
Most of the appeal of co-working comes from the convenience of having everything you need provided on arrival. From fresh coffee to superfast Wi-Fi, you don't need to lift a finger when it comes to improving the quality of your workspace – it's all taken care of for you.
Common facilities and amenities you can find at your typical co-working day office include:
Wireless connectivity and charging points at every desk
Co-working offers workstation privacy without causing isolation
Meeting rooms and spaces for teams of all sizes
Fully stocked kitchen with tea, coffee, bottled water and fridge space
Common areas perfect for facilitating networking with other workers
Desk storage (perfect if you plan to use a workstation frequently but don't want to pack up shop each evening)
Having easy access to all these essentials allows you to get on with your day without worrying about organising these other essentials, which in turn can aid your productivity.
Embrace the Power of 'Contagious Productivity'
One of the biggest strengths of co-working is the opportunity to work in the same space as other professionals in completely different lines of work. From pioneering creatives to bona fide data whizzes, you'll be co-working with other experts who embrace productivity from a range of unique perspectives.
Research shows that productivity is contagious. By working with similarly motivated but very different people, you're in the perfect environment to give you the impetus you need to keep working at peak performance.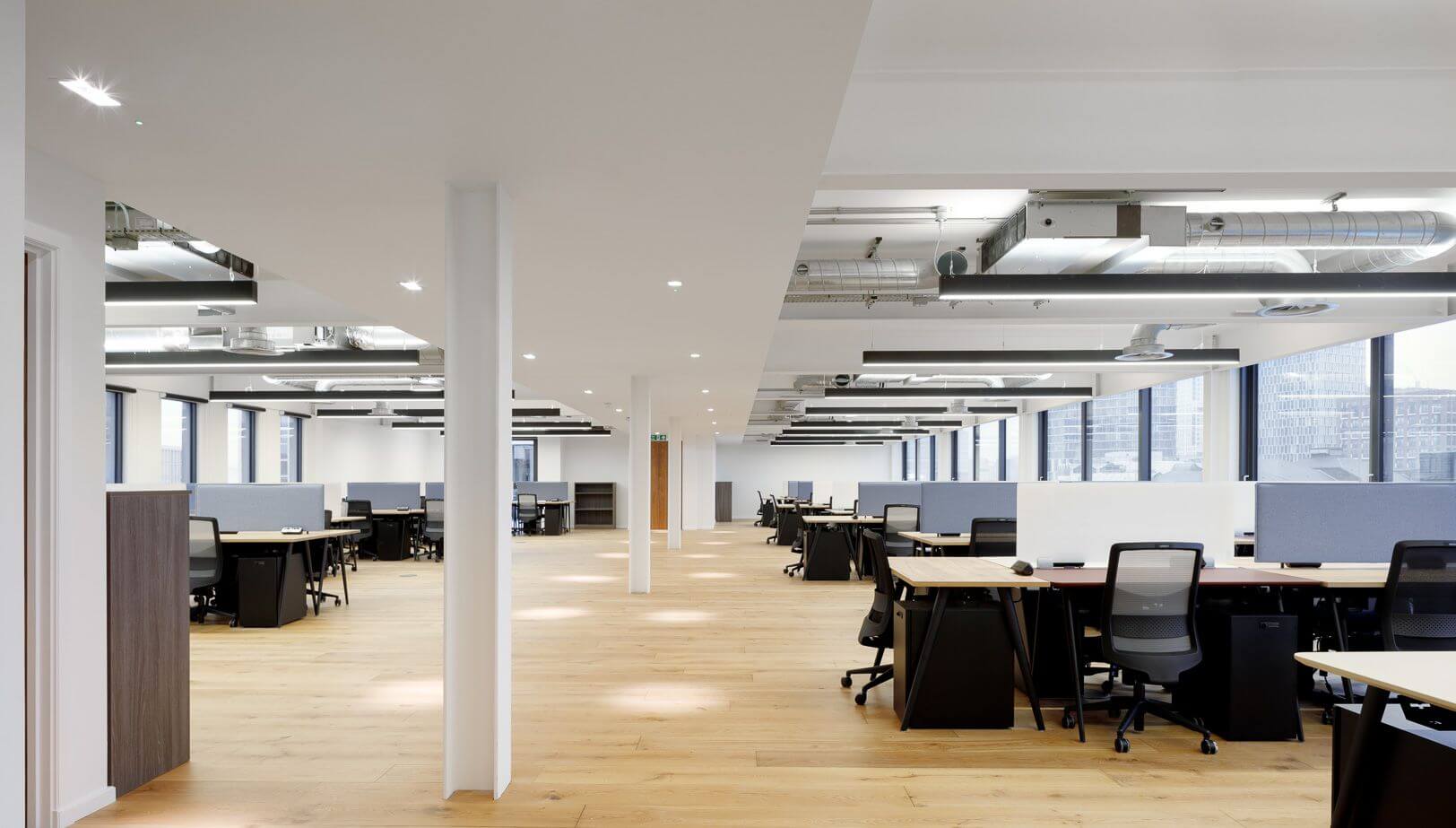 Enjoy a Cross-Pollination of Ideas with Other Workers
Contagious productivity is only one side of the coin. If you're a keen networker, you can capitalise on this environment by sharing ideas and modes of working with professionals from other industries, in turn boosting your creativity and refreshing your perspective when you need a break from the routine of your work.
This cross-pollination of ideas is vital in the modern working world, and co-working spaces are where this concept can be lived out in an everyday work environment. Inhabitants of a co-working space enjoy a sense of community that few other working spaces can cultivate, resulting in an increase in productivity in your workplace.
A New Way to Keep Your Home and Work Lives Separate
There's no denying the convenience of working from home. It's become an essential part of modern office life, but it can be tricky to transition between work and home life when your whole day revolves around the same space.
Co-working offers a flexible work environment, while conveniently freshening up your routine, giving you a means of separating business and pleasure with minimal hassle. With a day pass, you can use a co-working space at your convenience without being tied to going into the office every day.
However, both options have their advantages, so nothing is stopping you from using co-working and working from home together – it's all about what works best for you.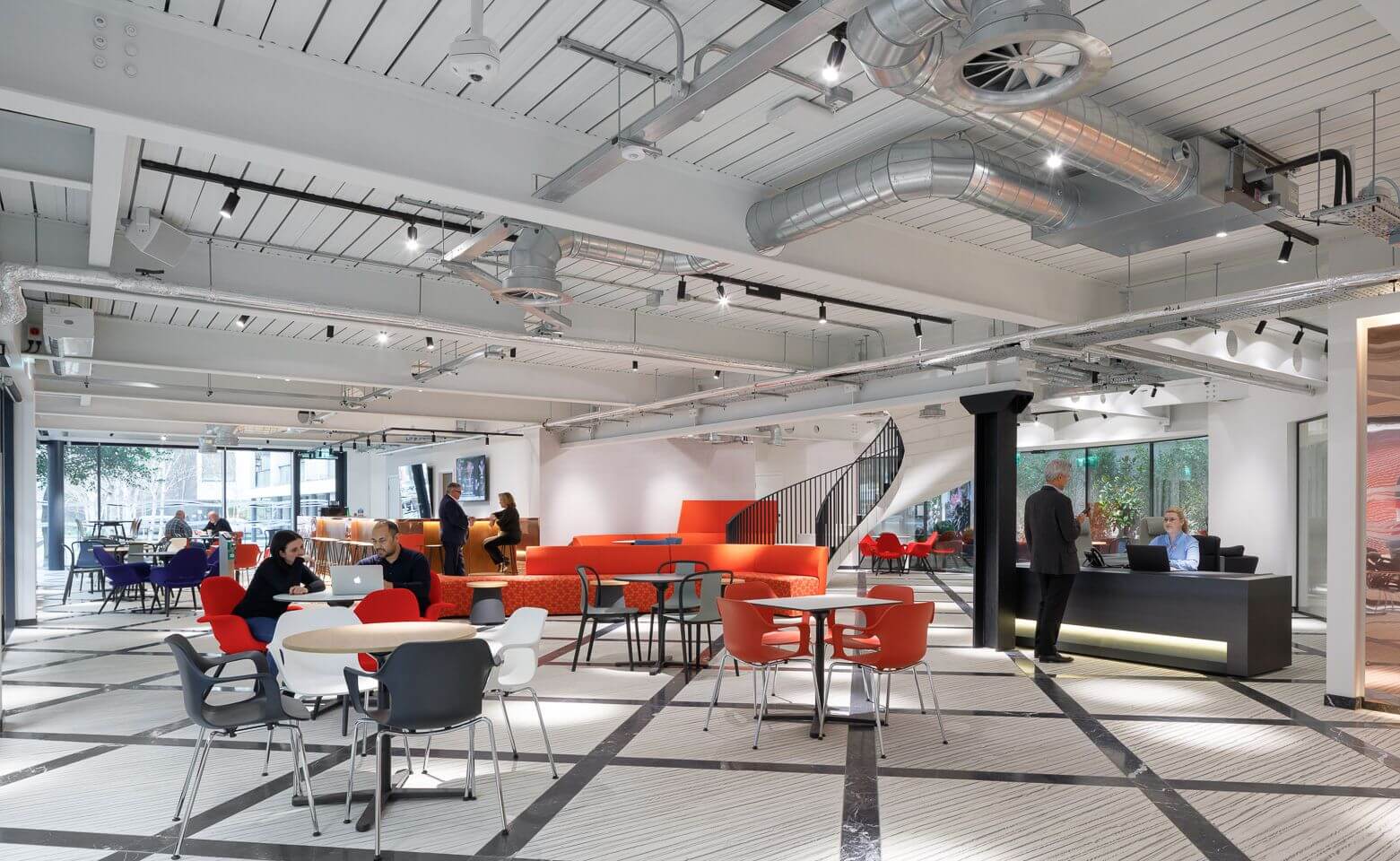 Flex to Your Business's Practical and Financial Requirements
Flexible working is a win-win for employers and employees. Aside from the ability to optimise your working day from a personal standpoint, a co-working environment can also be used flexibly according to the needs of your business.
If you need an office space at certain times throughout the month but don't have the finances to rent an office space full-time, a day office is a perfect solution.
Choose the optimal space for your needs by only hiring the office space when you need it, effectively cutting costs while providing a collaborative space for your team.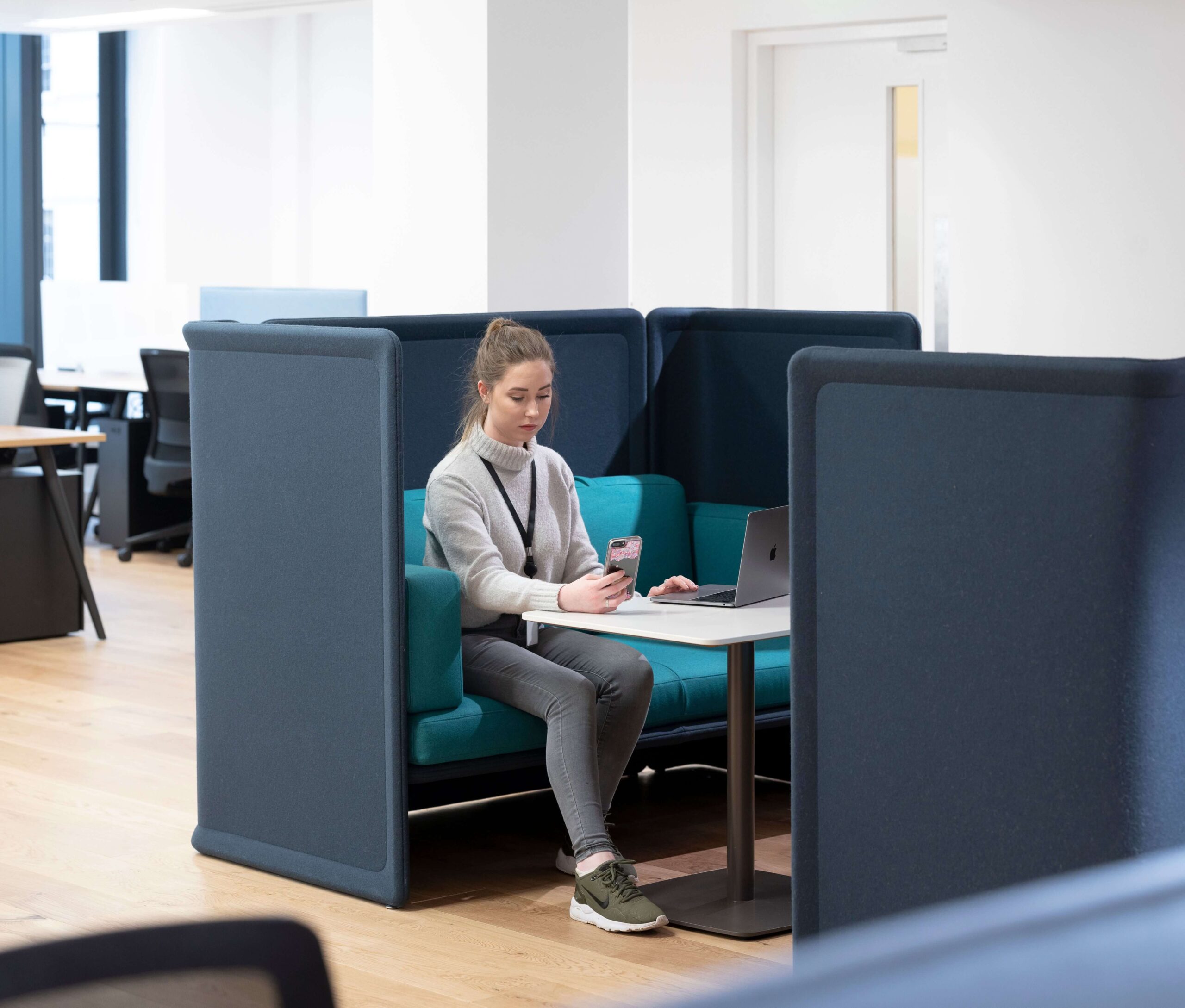 Your Office's Upkeep is Handled by the Building Staff
Let's face it: organising cleaning and routine upkeep of an office can be an administrative hassle, especially if your days are busy enough as is. With a co-working space, this is all taken care of, minimising any hassle that might crop up because of a routine inconvenience.
If any issues arise – such as a connectivity problem or running out of kitchen supplies – it's a simple case of chatting to the on-hand building admin, who will be able to sort out the issue as needed.
For more information, read our handy guide on everything you need to know about hiring a day office.
Increase Productivity in the Workplace with a Co-Working Space
If you're interested in finding out more about renting a desk or office space in a co-working environment, we'd love to hear from you.
At Us & Co, we run a series of comfortable, modern office spaces for rent in London and Dublin. Whatever size of space you're looking for – be it for a single desk or space for a larger team – we're designed to accommodate you.
Get in touch with our team today to find out more about hiring a co-working space at Us & Co.
How to Find the Right Office Space as a Start-Up Business
So, you've successfully launched your start-up business. You've hired a few employees and it's time to consider moving into a full-time office space. This can be a daunting prospect, but it's also an exciting one ripe with potential.
The importance of a suitable work environment cannot be overstated. There's a long list of things to consider when on the hunt for the ideal office, particularly when you need the flexibility that life as a start-up requires.
In this guide, you'll find tips and some things to bear in mind when searching for your business's first office space, along with pointers on making the right decision for you and your team.
Why the Right Office Space Matters
Aside from the practical benefits of working in a space that has the necessary amenities, there are also benefits to productivity for you and your team to consider. Company culture is important, and the right location can play a substantial role in establishing this culture.
Your start-up's first office space is important for the following reasons:
It will set the mood for your employees – so an attractive office with contemporary facilities is a no-brainer
A healthy work environment has a positive impact on productivity
An office in a strong location sends the right message to stakeholders and potential employees
The right office will act as a springboard as your business continues to grow
A reliable office provides some semblance of stability to your daily workflow. Even when your work inevitably throws up hurdles to overcome, it's important that your office isn't one of them!
Your Office's Location is Vital
Establishing your team in an appropriate location is one of your chief priorities when office hunting. Making your base in the right location will set the tone for your team, your partners and your clients.
Choose an office in an area that will serve you well with the people close to your business, with good access and close proximity to fundamental services like restaurants and transport hubs. Also consider things like the availability of natural light in the office, as natural light can improve workplace productivity as well.

Determine What Facilities You Need in Your Office
Getting together a list of desired amenities for your start-up's office space is another crucial consideration to make before you begin your search. This will vary from universal considerations – like meeting rooms and recreational space – to facilities that are more 'nice-to-haves' or specific to your field, like breakout spaces, standing desks and office equipment exclusive to your industry.
Some common ones to think about are:
Meeting rooms
Breakout rooms for employees
Office layout
Kitchen equipment and space
Leisure space
General office equipment you want for all your employees
Parking
It's important to balance the essential facilities you offer with additional bonuses that contribute to your workplace culture and employee wellbeing. Flexible working is becoming increasingly desirable for employees and employers in the UK, so providing a means of facilitating this for employees where possible will go a long way.
How Much Office Space Do We Need?
Space is another key consideration. Of course, the size of your desired office will depend on the number of team members you have, and whether you're planning to continue growing in the near future.
As a rule of thumb, we'd recommend a minimum of 40 sq. ft. per employee for everyone on your team to remain comfortable. You'll also want to consider things like meeting room space, which won't require as much permanent space per employee, but still enough to accommodate your whole team comfortably.
Private office floors to rent may be an appealing option, but a co-working office space is viable as well, especially for smaller start-ups that need an adaptable arrangement that can change on a monthly basis.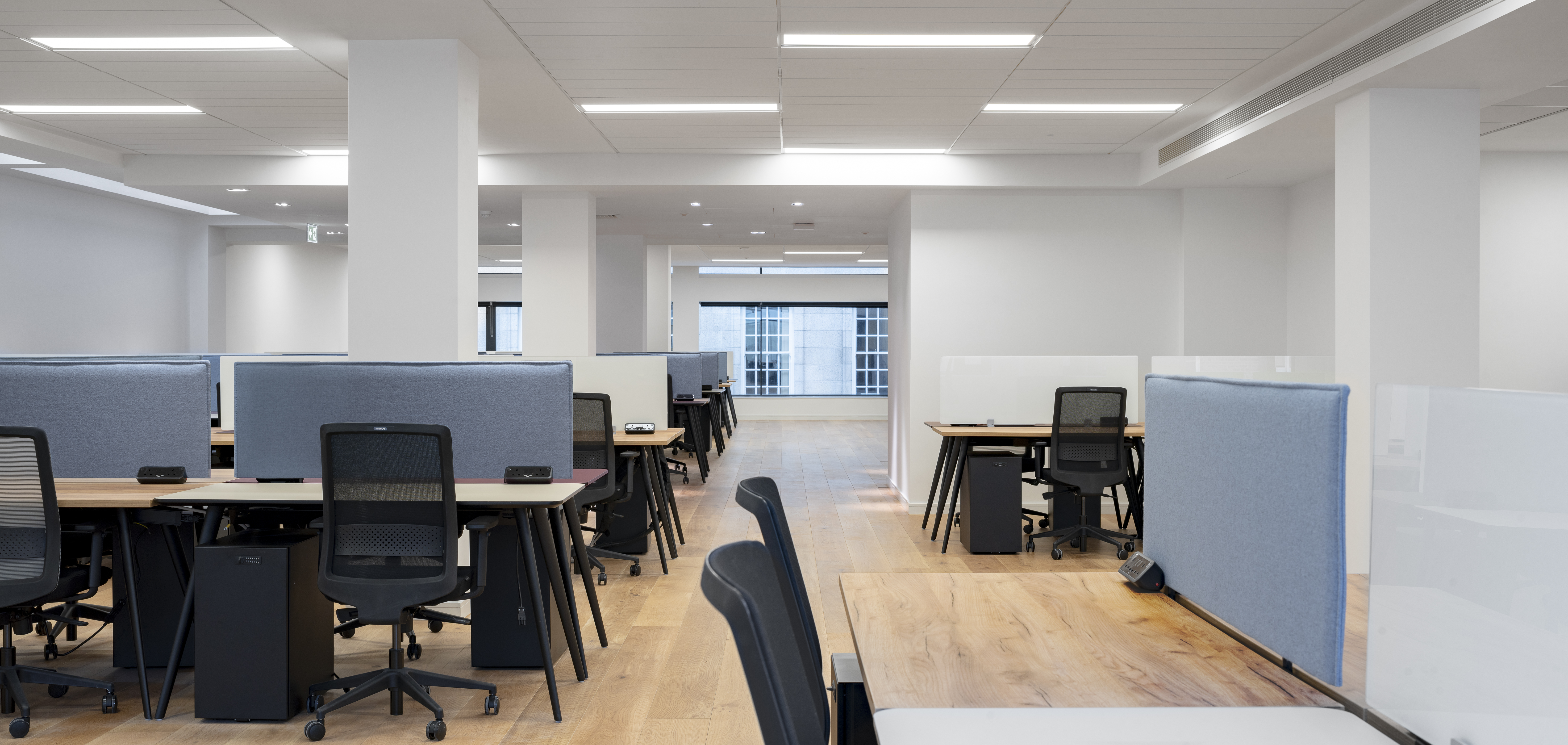 Understand Your Budget and Costs
For start-ups, defining your office budget is very important, particularly seeing as your income may vary from month to month.
As such, a serviced office space can be a real winner, offering a single-package deal that covers every cost of using the space. Serviced office spaces typically offer this arrangement, which is part of what makes them so popular with start-ups (alongside the opportunity for networking with other businesses in the building).
At Us & Co, we offer rolling monthly flexible office memberships on co-working spaces – the perfect solution for start-ups who require a greater sense of flexibility. With this membership, space can be increased or decreased as needed, giving you an office that moulds to your needs even as your business evolves.
Consider Utilising a Co-Working Space for Unrivalled Convenience
The benefits that come with a co-working space – alongside the convenient membership package you'll find with such an arrangement – make it well-worth investigating for start-ups who need office space that grows alongside your business and team.
Start-up life is constantly in flux, so you may find yourself in need of an adaptable work environment that gives you room to grow and takes the hassle out of running an office. If you're based in London or Dublin, our serviced spaces could be the perfect solution for you.
A co-working space also typically comes fully furnished. All you'll need is the personal essentials your workforce uses day-to-day – just turn up, plugin and you're ready to go.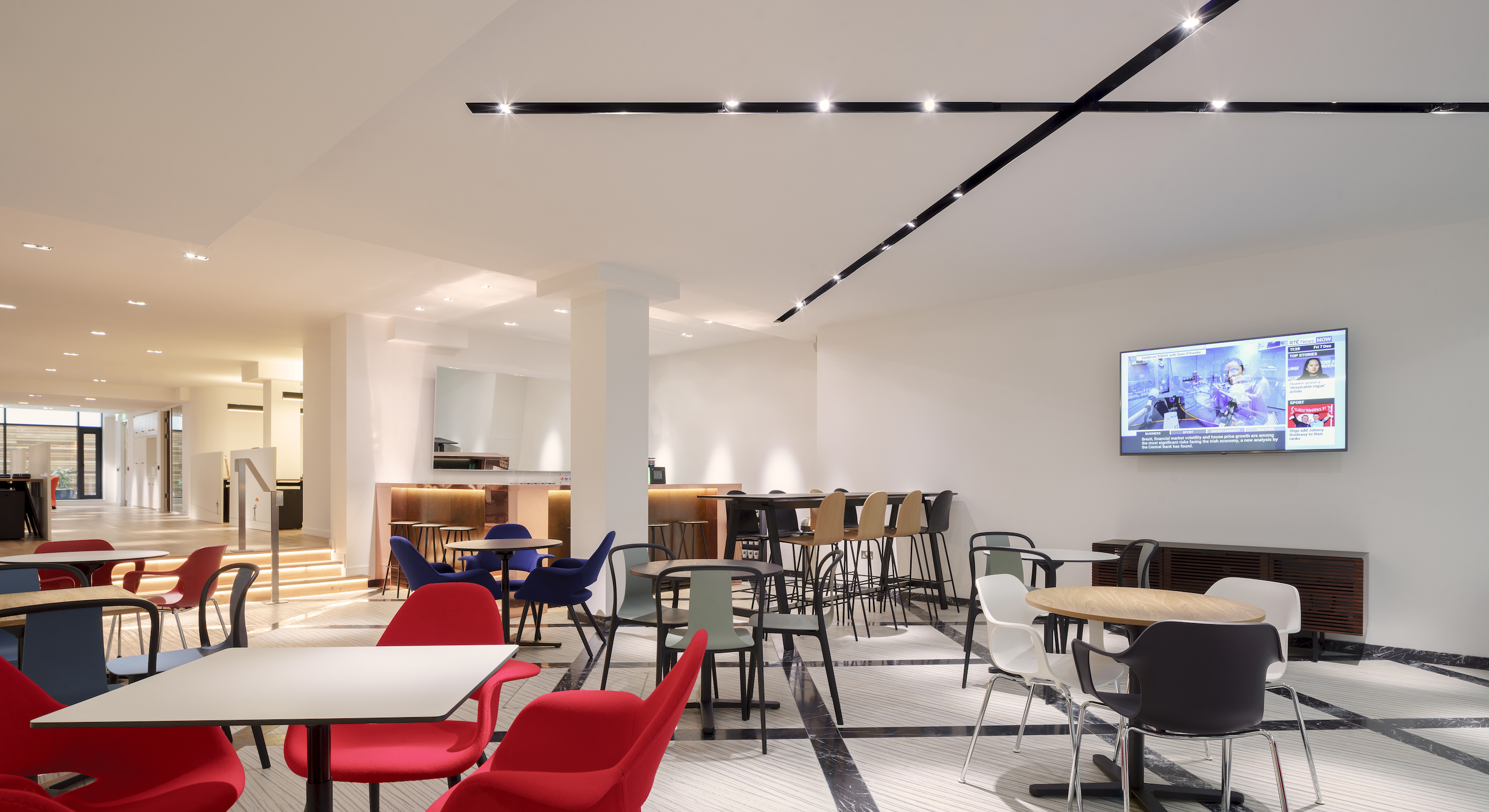 Enquire About a Coworking Office Space for Your Start-Up Business
If a co-working arrangement sounds like your ideal start-up office space, get in touch with us today to find out about membership with Us & Co and to book a tour of our office spaces.
With co-working facilities in London and Dublin, we're fully equipped to facilitate start-up businesses from a range of industries in the UK and Ireland.
Whether you're a team of 4 or 100+, our range of options has something for you. Browse a virtual tour of each of our 3 locations below and give us a call if you'd like to find out more.
London, Stratford – Us & Co Virtual Tour
London, Monument – Us & Co Virtual Tour
Dublin, St Stephen's Green – Us & Co Virtual Tour
8 Facilities to Look for When Hiring a Meeting Room
Successful meetings are built on first impressions. The meeting room facilities at your disposal can make or break your event, so choosing a venue that offers the necessary amenities is essential.
A meeting room is so much more than just four walls: it's a world of opportunity for every attendee when utilised efficiently.
Taking it a step further with state-of-the-art meeting room facilities that don't break the bank is the true first prize. To that end, we've prepared this list of features to look out for when hiring a meeting room.
If you're looking for the highest-quality event possible, be sure to tick each of these things off your checklist:
1. Adaptable Meeting Spaces
If you want an adaptable meeting space, look out for facilities that can fit groups of various sizes. Whether you're after a meeting room for 1-to-1 scenarios like interviews, for presentations to sizeable groups or roundtable board meetings, choose a space that can flex to your needs. Visit it beforehand, if possible, to ensure you're happy.
Stand-up meetings are becoming increasingly popular in the corporate workplace. Find out more about the advantages of stand-up meetings here!
In the current social climate, you should also consider a venue with a COVID-secure workspace policy – this is essential, not only for health and safety but also for the peace of mind of your attendees.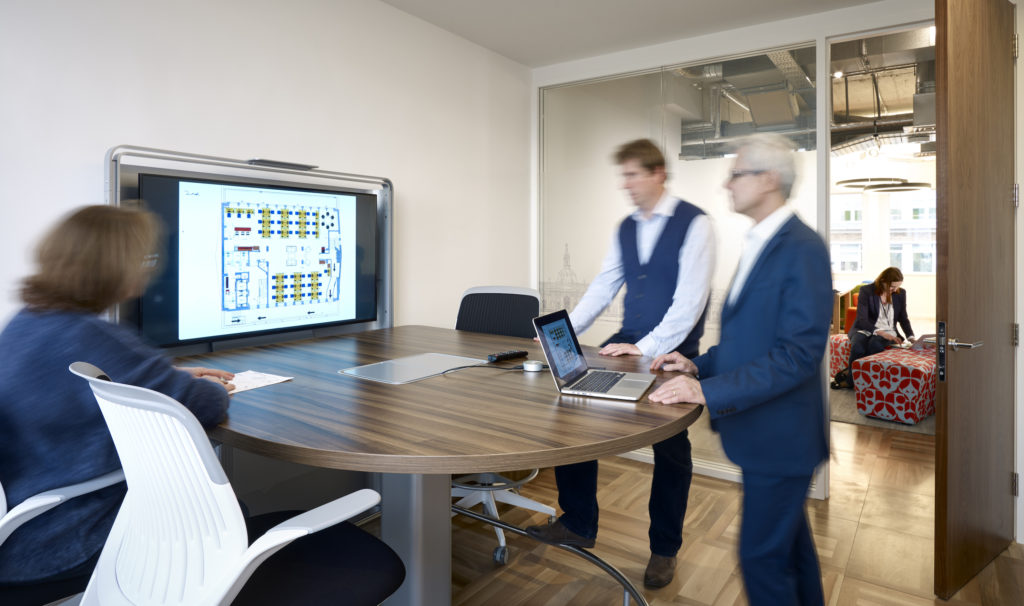 2. Comfortable Seating
For any meeting, sometimes it's the little things that get in the way of your attendees' enjoyment and engagement. Uncomfortable seating is one of those things, so ensure your venue has seating with lasting comfort no matter how long the event is due to run!
Whichever meeting room arrangement you're going for, comfortable seating is a necessity; it allows your attendees to focus on the important things without undue distractions.
Read our blog for more tips for surviving a long meeting.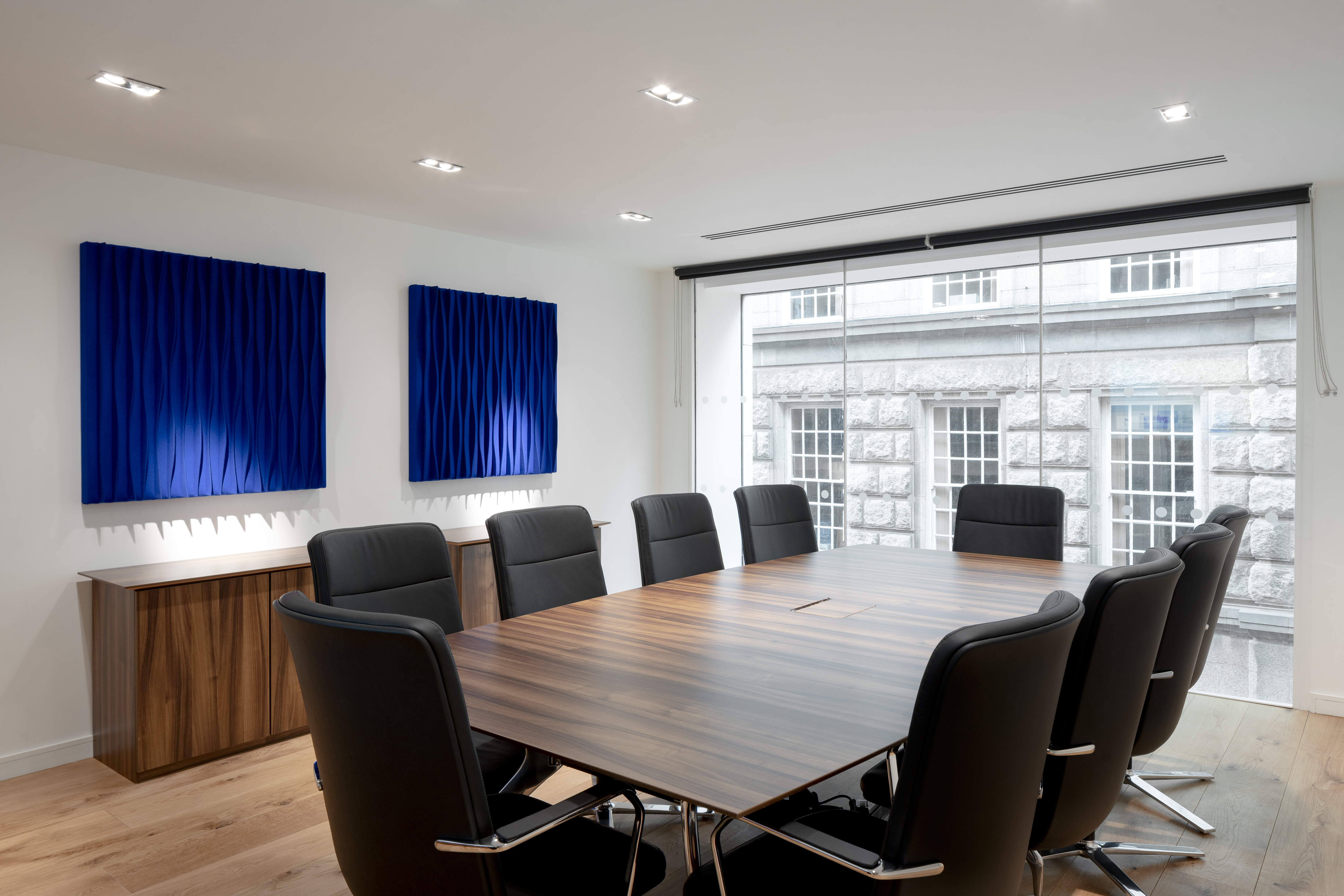 3. An Inspiring, Accessible Location
An attractive and accessible location will make it easier for attendees to find the venue and mitigate any hassle before your event has even begun. More importantly, ensure the venue is accessible for those with disabilities. If you are unsure about this, speak to the management team.
The trophy pick is a venue in a central hub. Chances are your attendees will be familiar with the area and so can find it more easily.
Us&Co  has meeting facilities in Central and East London and the heart of Dublin.
A location surrounded by attractive amenities, such as restaurants and other areas of interest, will likewise make a good impression, so bear this in mind.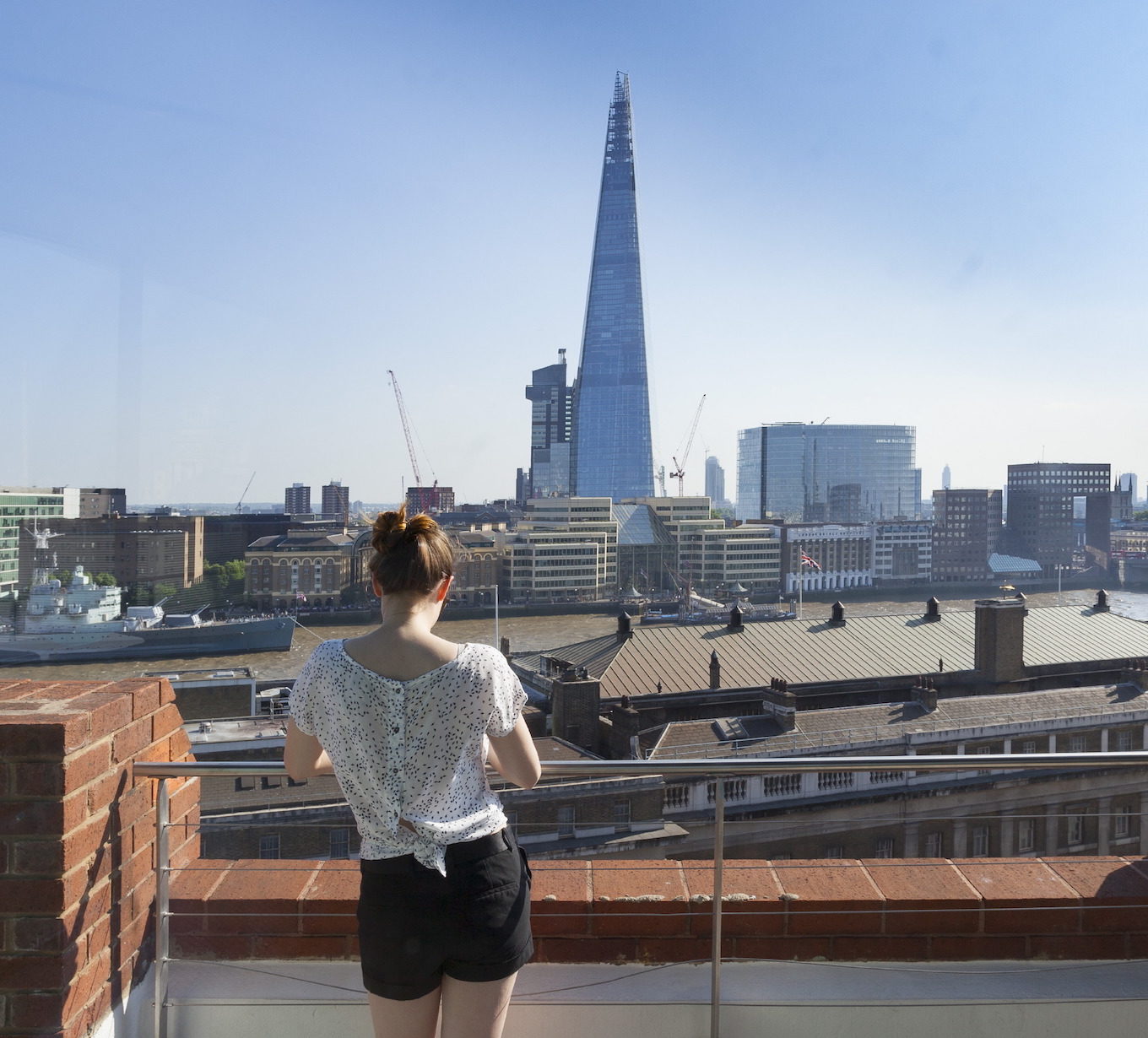 4. Breakout Spaces for Networking Opportunities
There's no substitute for face-to-face meetings. If the past two years have taught us anything, it's that we thrive on in-person interaction Choosing a space that facilitates this will elevate your meeting to no end, giving your group valuable networking opportunities as well.
An impactful event relies on more than just what goes on in the meeting room itself. Utilizing a meeting room facility that offers breakout spaces like an open-plan kitchen/lunch area will serve your attendees well as a decent networking space during breaks and between sessions.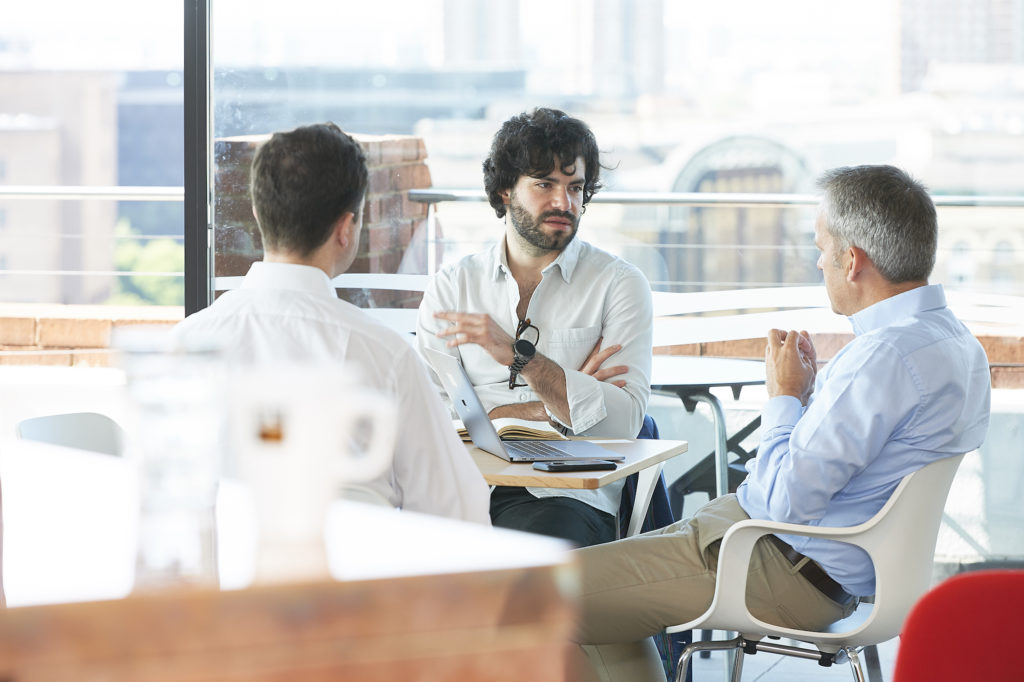 5. Fully Stocked Technology Suite
This is non-negotiable in the modern meeting room. Reliable technology that both engages users and maintains reliability throughout your meeting's runtime is vital for getting the most out of the event – and keeping your attendees invested.
Be sure to tick these things off your technology checklist in any prospective meeting venue:
Reliable, superfast Wi-Fi connectivity
Hassle-free presentation software
Integrated room speakers
Video conference facilities for virtual attendees
The necessary connectivity facilities, e.g. cables, ports, etc.
An on-hand in-house technician to help you get set up
Inefficient technology facilities can stop your meeting in its tracks, so to avoid any frustration, ensure you're happy that the included facilities are up to modern standards!
6. Catering Options at the Venue
If you're hosting an all-day or even half-day meeting, having catering options at the venue is a vital convenience. An in-house catering team offers a reliable alternative to sourcing food yourself on the day – simply let them know in advance what you want and at what time during the day. Thereafter you can put it out of your mind, allowing you to focus on other logistic considerations!
This works in tandem with giving attendees networking opportunities – food is a fantastic social catalyst after all, so ask the venue for a list of catering options and pick out the most appropriate options.
7. Adequate Parking Space
Ample parking becomes increasingly important the more attendees you have, so you'll want to be sure there's plenty of space for all your attendees beforehand.
Of course, a central and accessible location may mitigate the need for parking somewhat, especially in larger commercial hubs, but this is still a point worth considering and a potential contributor to attendee satisfaction.
8. A Reliable Venue Management Team
Finally, be sure to choose meeting facilities managed by a reliable, responsive, and adaptable team. All a venue's other facilities can be substantially elevated when handled by a management team that ensures your experience is as hassle-free as possible.
Be sure to discuss your requirements with the venue's management when enquiring about their meeting rooms to ensure all your needs are catered.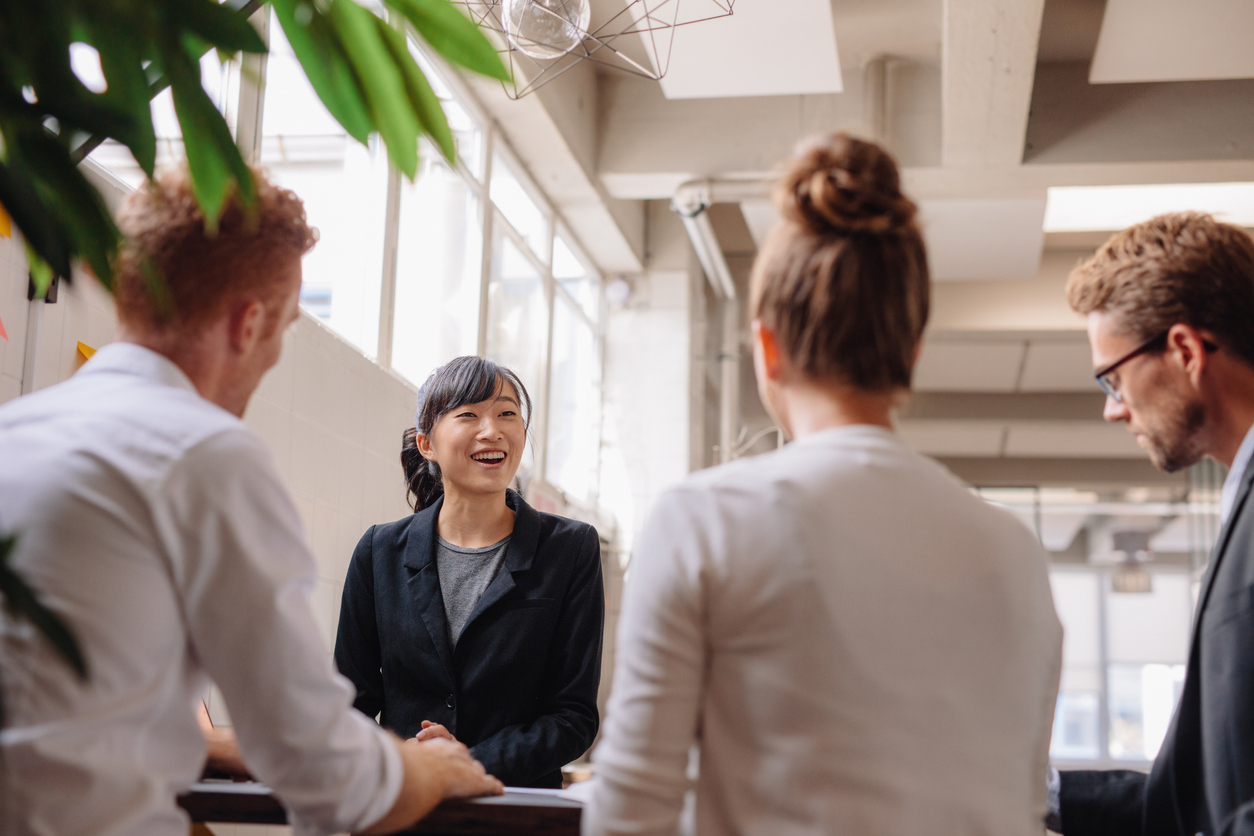 Explore Us & Co's Meeting Room Facilities in London and Dublin
Us & Co is a series of flexible co-working office spaces in London and Dublin. We're passionate about helping young and growing businesses find the perfect solution to their office space needs – and we offer a variety of meeting room facilities for rent at all of our locations.
If you'd like to find out more, get in touch with us – our team can talk you through your options for meeting room rental at our 3 locations:
Contemporary work life is in a state of flux. Thoughtful workspace allocation has become the norm, with modern businesses increasingly looking towards a flexible use of office space to accommodate their employees.
Day offices are an enticing option that businesses have become increasingly drawn to, across the UK. Their flexibility and ease of use have made them a popular option for businesses looking for an office space that moulds to their needs.
---
What is a Day Office?
Day offices are a flexible and reliable solution for businesses who need a temporary workspace for a day, or a set number of days each month. These office spaces are private and fully equipped to allow a business to simply show up, plugin and start working.
Renting office space for 1 day can typically be done on a flexible plan. You choose the day or days you want to rent the office space, and it's then yours for that period of time. Find out more by viewing Us & Co's day offices.
---
The difference between a day office and hotdesking
This may sound similar to hotdesking, but there are some key differences.
While both hotdesking and day office rental is a flexible workspace solution, hotdesking is a little more unpredictable in that your exact workstation can change depending on who else is using the space. 
With day offices, the entire space becomes your private office for the day, meaning you can use it consistently without any disruption for as long as you're renting it.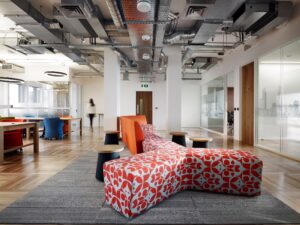 How a Day Office Can Enhance Your Business
If you're a business owner looking for a workspace for your employees, day offices offer a secure, adaptable space that can flex to and around your schedule. The benefits of flexible working are a win-win for employers and employees!
These spaces include workstations built-in for however many employees you need space for, freeing you up from worrying about office furniture.
Many day offices also have convenient amenities built-in, such as kitchen spaces, breakout areas and even some catering options. They're the perfect companion to a hybrid work style if you're looking to balance days working from home and getting your team together in a more corporate setting when desired.
---
Cultivate a professional image without the stress of maintaining an office
Because day offices are fully set up ahead of each visit, they're the perfect way of enjoying an office environment minus the commitment that comes with handling it all yourself. You're free to show up, get your work done, and leave – while maintaining an air of professionalism that comes with having your own space.
---
An office space that flexes around your requirements
Many day offices are not just flexible schedule-wise but are also flexible with the amount of space you can hire. They can cater to businesses of all sizes, whether you need space for 6 or 100 employees. This means your plan can also scale alongside your business if necessary, giving you space to grow without the hassle of finding a new office. 
With more and more companies embracing the decision to work from home, a day office complements the modern working life if you still want to keep an office setting for a few days here and there.
Read our blog on the benefits of renting a desk for the day to find out more about how a day office can enhance your working day.
---
The Employee Benefits of Hiring an Office Space for 1 Day
Day offices aren't just great from an employer's perspective; they can also offer a great work environment for employees to enjoy as well.
---
Collaborative work environment
The biggest thing that working from home is missing for many businesses is a sense of collaboration between team members. If your team benefits from days in the office together, a flexible office environment can be the perfect means of doing so when needed.
Whether you need  a space intermittently or as part of a rolling monthly plan, a day office is a fantastic way of injecting some cooperation and productivity into tasks where needed.
---
A change of scenery for home-workers
If your team is used to regularly working from home, a day office can offer just the change of scenery they need to enhance productivity. There are more pros of working from the office than simply a fresh environment, but the importance of a break from working from home can't be overstated!
---
Unique networking opportunities with other tenants
Coworking spaces present an indispensable opportunity for networking. With a range of other businesses under one roof, it's the perfect environment for sharing ideas and engaging with other professionals on a daily basis.
Outside of your own office space, communal areas are a great space to meet like-minded people and share ideas.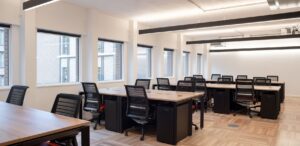 What to Look for in a Day Office Space
If you're in the market for a day office, there are  important considerations to look for when choosing the right space: 
A flexible rental plan that works for your business and workforce

Attractive premises that show your business in its best light

Access to breakout spaces and

meeting rooms

Fast, reliable wi-fi

Regular cleaning services between sessions and robust

COVID-19 safety measures

Location convenience – close to transport hubs and other important amenities
Day offices are designed to give you all the comfort of a top-tier office environment in the most convenient possible package, so choose a space that best fits this brief.
---
Find the Perfect Office Space for a Day with Us & Co 
If you're looking for a flexible office solution in London or Dublin, Us & Co's day offices may be perfect for you. Contact us today to find out more about our gorgeous spaces and to book a viewing.
You can also see virtual tours of our locations below:
London, Stratford – Us & Co Virtual Tour
London, Monument – Us & Co Virtual Tour
Dublin, St Stephen's Green – Us & Co Virtual Tour
3 top interview techniques to help you get that job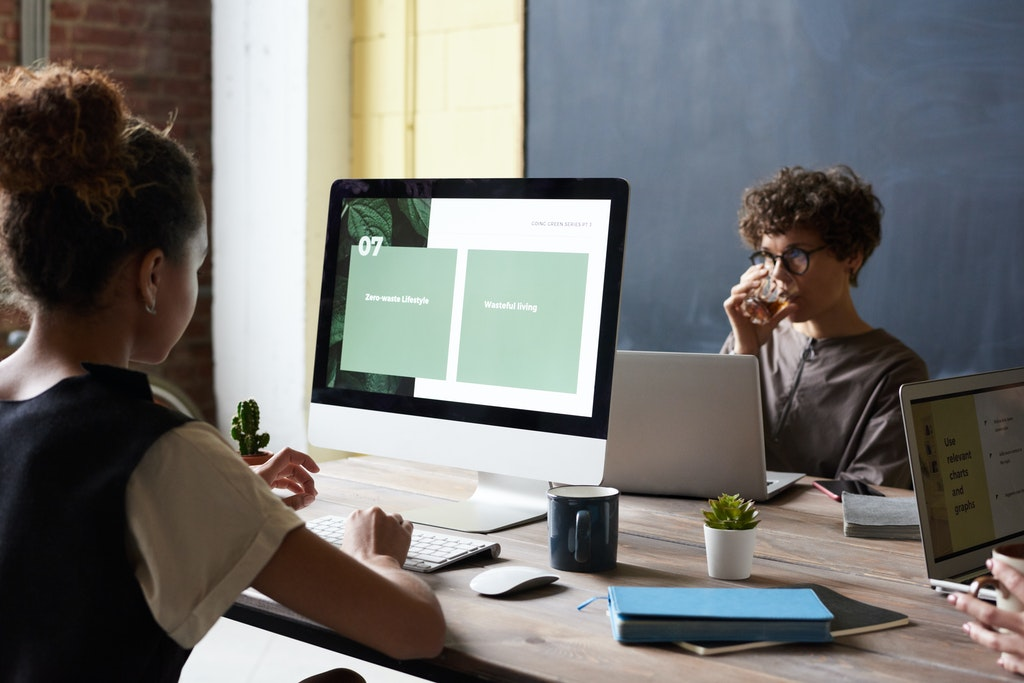 The pandemic has cast a cloud of uncertainty over many aspects of our lives. The rulebook has been thrown out the window; our home is now our office, the UEFA Euros 2020 is being played in 2021, and job interviews are now all predominantly online. Things we take for granted, such as the Olympics being held every 4 years, can be thrown to the wind as a luxury of a bygone era.
Nevertheless, things are not all doom and gloom. Even though there has been a marked increase in unemployment due to the pandemic, according to the Financial Times, "the UK Labour Market has begun to thaw" as recruiters see one of the strongest rebounds in permanent hiring in years. Ireland, cautiously optimistic, show signs of the following suit.
But what does this mean for job applicants? What new tricks do we have to learn to ace that job interview?
Thankfully, not much has changed on that front. Besides dialling into a video call from the comfort of your own home, you can rest assured that if you get the basics right, you have already built a solid foundation for any interview!
But don't take our word for it! We talked to Fiona Joyce, the Office Support Principal Consultant for Sigmar Recruitment, the largest organically grown recruitment consultancy in Ireland, who provided us with 3 of her top tips for an interview. This is what she had to say…
1:  Do Your Research
Heading into any interview, you should be fully aware of the role and what the organisation does. My best advice here would be that you should study the job specification well enough that you should be able to explain what the position is without needing to refer to the job spec.
When researching the organisation, you must study their website and search for any articles or announcements about them. A good rule of thumb is that you should talk for 90 seconds about the company. This doesn't mean talking about the company's entire history, but you do want to be able to demonstrate that you know who they are (key players), what they do (a brief overview), and their overall ethos and culture.
With this company research – drop it in where you can. Show off your homework! Passion and Enthusiasm for the company and role can be a deciding factor between two people. Remember, they are hiring a colleague as well as an employee!
Tip 2: Know Your CV
It sounds like a no-brainer, but it's still a piece that trips a lot of people up!
When speaking about your CV, you should know your dates, past employment, and role duties so well that if all copies of your CV disappeared tomorrow, you could re-write it from scratch.
Many employers will ask you to take them through your CV. The best way to run through your CV is to go through these 3 easy steps:
1. Where you worked and when.
2. Your job title and a brief overview of your core duties – give 3 – 5 points on what you did there and skills you learned in the process.
3. Why you left this job – again, a brief line to explain why you left.
Follow this structure as you talk through all of your roles, and you should be able to get through your CV run-through quickly and concisely. The interviewer will then ask for more information on areas of specific interest, and this is when you should go into more detail.
It's imperative that if it's on the CV, you need to be able to talk about it! I've often interviewed people who have experience on their CV from ten or more years ago, and when asked about it, I've been told, "I can't fully remember; it's so long ago!". This will damage your chances in an interview. The experience that the employer is asking about may be of particular importance or relevance to the position that you have applied to, which is why they will want to know more about it. You have one chance to grab this job, so don't waste it by not putting in the work on (re)learning the CV.
With video interviews being the norm these days, it is easier for you to have your notes nearby but out of sight. However, it's important not to spend too much time looking at them during your interview. I've interviewed candidates over video daily for the last year, and I quickly noticed that you could very easily tell when someone was reading their CV off the screen versus reciting it from memory. An interviewer will want to see that you are present, engaging, and aware of your experience. Avoid reading your CV, as it will pull attention away from you when you break eye contact with the interviewer.
Tip 3: Be Passionate and Honest
When asked why you have applied to this role, be honest. Every hiring manager out there has heard the words, "I'm looking for a new challenge"! Give them a reason that's personal, original, and specific.
Many people feel the need to sugar-coat their reason for leaving, but it's perfectly acceptable to tell the truth, and say, "I've learned all I can in my current role", or "It's no longer an industry that I'm passionate about". This does not reflect badly on anyone; it's just a genuine reason for wanting a change.
This may link back to Tip 1., but while you're looking into the organisation, you should identify things about the organisation that appeals to you, the reasons why they appeal to you, and why you genuinely want to work with them. Don't be afraid to tell your interviewer, and don't be shy in using emotive language such as "I love the fact that…" or "What really attracted me to…" or even "What I found to be very impressive is…".
When giving examples, give them from the point of view of already being in the role, doing the job. This lets the interviewer see that you are already thinking from the perspective of their new employee. For example, you could ask a question like, "When I am running this report, where is the data coming from?". It's a question that shows your understanding of the role and engagement in the interview process and allows the interviewer to hear that you're already envisioning yourself on their team!
---
Get in touch with Us&Co today:
 Stratford, East London Flexible Workspace, 11 Burford Road, E15
Phone us: 020 3102 4010
Please email us: enquiries@usandco.com.
London, Monument Flexible Workspace, 7 Harp Lane, EC3R 6DP
Phone us:020 3102 4010
Please email us: enquiries@usandco.com.
Dublin St. Stephen's Green Flexible Workspace, 5 School House Lane East
Phone us: +353 (1) 529 4100
Please email us: enquiriesdublin@usandco.com
Why the Benefits of Flexible Working are a Win-Win for Employers and Employees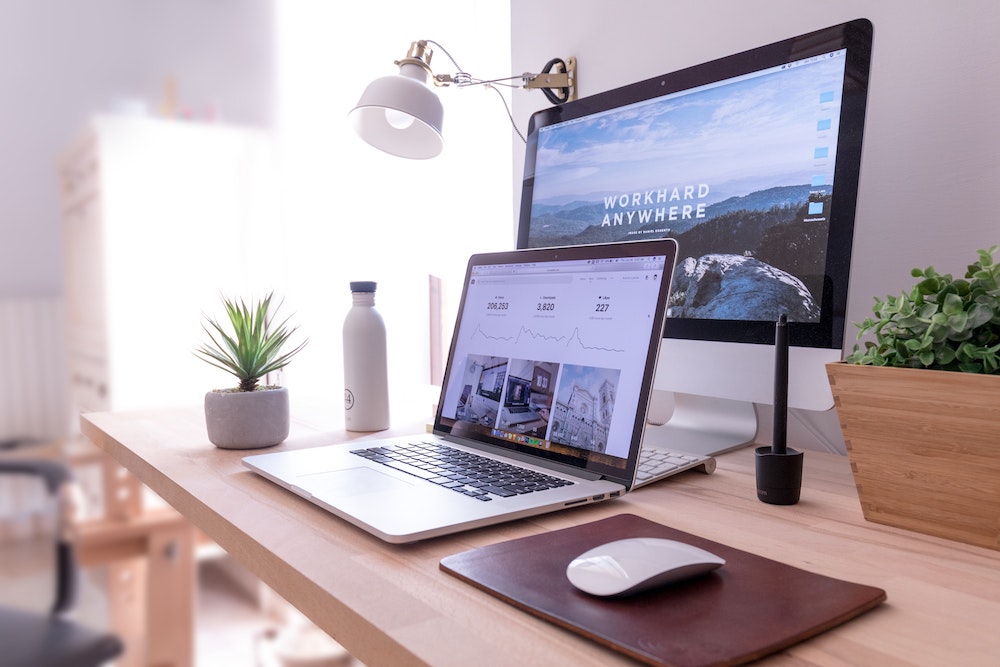 As we draw closer to the finish line of this pandemic, flexible working hangs in the balance. Now that we have seen that flexible working is manageable but successful for so many, we should see an uptick in companies offering flexible working. However, according to the Chartered Institute of Personnel and Development (CIPD), two-thirds of employers are not willing to introduce new types of flexible working; "research… showed that only three in 10 employers (30 per cent) are looking to introduce new types of flexible working (excluding working from home) over the next year". Though this statistic may appear to signal the end of flexible working, the opposite is true. It's undeniable that the way we work has changed forever. The truth is the benefits of flexible working are a win-win for employers and employees alike. Flexible working is here, and it's here to stay.
---
But what is "Flexible Working"?
Flexible working describes a working arrangement that provides flexibility to how long, where, when and/or what time you work, away from your existing working arrangement such as the traditional 9 to 5.  Flexible working comes in many different shapes and sizes, from Remote working to Job Sharing and is very much adaptable to the individual.
But what benefits can flexible working provide employers and employees? Let's find out.
---
Interested in having a flexible workforce? Why not have a flexible workspace too! Get in touch with the Us&Co team to discuss a flexible office membership at our London Monument, London Stratford or Dublin workspaces.
---
Flexible working benefits for businesses
Though companies may be reluctant to implement flexible working in the long-term due to a hesitancy to restructure their operational model, they need to consider future-proofing their business.  You can develop a myriad of reasons not to push the boat out, but you'll soon find yourself in shallow waters. The way we work has changed, and it has changed for the better. The benefits of flexible working for employers will outweigh any negatives that may appear to rise to the surface. For instance, by adopting it now, you can adapt much faster than others to the nuances involved and reap these subsequent benefits.
---
Reduced Costs
By implementing flexible working, you can review your costs and realise you can make significant savings by downsizing your real estate footprint. This will not only reduce rent but also reduce your IT requirement, furniture expenditure and utilities. You can also reduce costs by using a flexible service provider who offers short-term flexible leases, which avoids the need for CapEx.
---
Less Presenteeism & Absenteeism
According to the Centre of Mental Health 2017 report, presenteeism (reduced productivity at work due to being ill) cost the UK £21.2 billion per annum. By offering flexible working options, you could reduce your individual costs and better your employee's mental health. The same is true for absenteeism as the report found that absences due to sickness cost the UK £10.6 billion each year while a further £3.1 billion was spent on staff turnover due to poor mental health alone. Flexible working, be it hybrid working, part-time or job sharing, can greatly benefit your employee's mental health, which will benefit productivity and costs.
---
Productivity
Flexibility breeds creativity and, in doing so, inspires productivity in employees. Over the last year, employers have found that flexible working (working from home) didn't cause a drop in productivity, and indeed some found an increase in productivity. According to a survey carried out by the CIPD, 71% of employers found that working from home has either boosted or made no difference to productivity.
---
Staff Retention & Morale
By providing flexible working options to your staff, you will gain company loyalty through your employees, who will be less likely to move jobs. Employees have many various personal responsibilities, and being allowed the flexibility of work to maintain a good work/life balance will create good morale and attract new talent. Therefore, employers who offer flexible working arrangements have a substantial advantage in the recruiting process and have access to a larger talent pool.
---
Flexible working benefits for Employees
As we now know, employers can benefit greatly from flexible working, but what really are the benefits of flexible working for employees? The reality is that employees have been calling for flexible working arrangements since the invention of the personal computer. And now over a year into the pandemic, we can see what benefits employees can reap from flexible working, which is evident from a study done by academics at Cardiff University and the University of Southampton who found that nearly 90% of all those who have worked more flexibly during the pandemic wish to do so once it is over.
---
Better Work/Life Balance
Flexible working provides staff with the time and space to adapt to their own personal lives, such as parental and familial responsibilities. According to CIPD, 20% of working people are stressed due to family relationships, while over half of those who flexibly work felt it is a good way to achieve a good work/life balance. Allowing employees this much-needed flexibility can help reduce their stress levels, resulting in a more productive and happier workforce.
---
Higher Job Satisfaction
Giving employees the autonomy to manage their own working hours and schedule can have tremendous benefits on their job satisfaction. People work better when they can choose when and where they work. It improves their focus and productivity. Flexible working also can inspire the entrepreneurial spirit in employees, which can be very beneficial for their confidence and overall job satisfaction. The autonomy of flexible working can also decrease employee burnout as they will be comfortable taking time-out to recoup.
---
Reduced Expenditure
It might seem like a small and obvious benefit, but the lack of commute not only does wonders for your mental health but also saves you money. According to a survey carried out by PR Agency Tyto, the average London commuter spends  £5,114 per year. This does not include the intangible mental cost of unpaid hours travelling in and out of work. By flexibly working, be it hybrid or working remotely full time, you will reduce the cost of your commute considerably. When you consider not having to buy lunches or pay for childcare, the savings increase exponentially.
Of course, there can be some disadvantages to flexible working.  Some, while flexibly working, experience a stigma called flexism – where staff are discriminated against due to flexibly performing their roles.  Nevertheless, any drawback like this one is more indicative of organisational problems than flexible working itself.  Flexible working is very much on the rise if not becoming the norm. The true benefits of which have not yet been truly realised.
---
Get in touch with Us&Co today:
 Stratford, East London Flexible Workspace, 11 Burford Road, E15
Phone us: 020 3102 4010
Please email us: enquiries@usandco.com.
London, Monument Flexible Workspace, 7 Harp Lane, EC3R 6DP
Phone us:020 3102 4010
Please email us: enquiries@usandco.com.
Dublin St. Stephen's Green Flexible Workspace, 5 School House Lane East
Phone us: +353 (1) 529 4100
Please email us: enquiriesdublin@usandco.com
Coworking Day Pass: The benefits of renting a desk for the day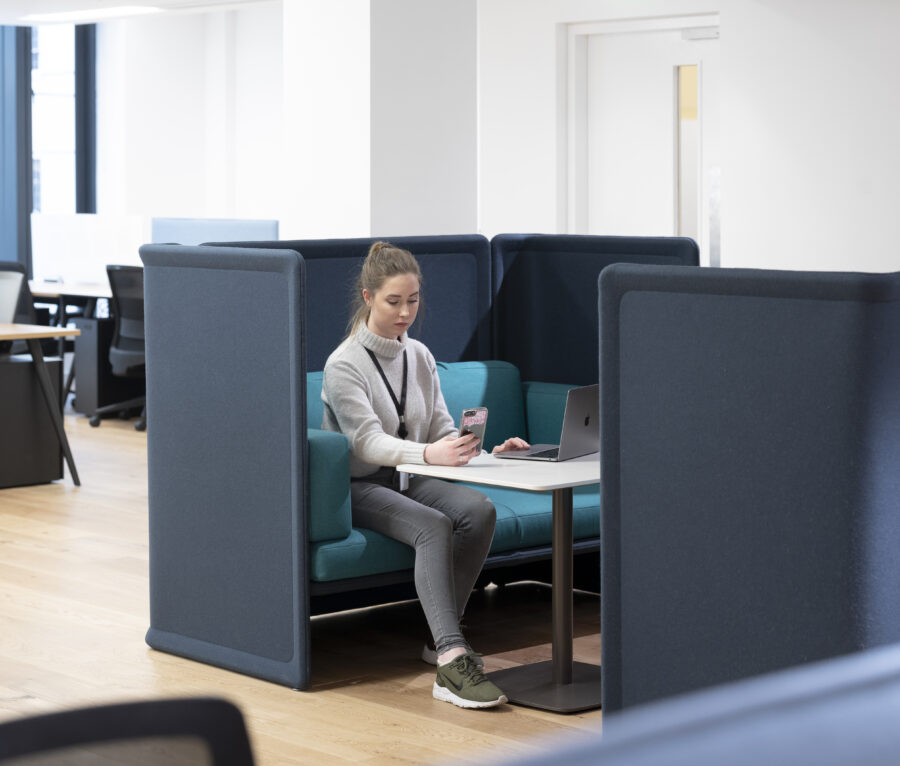 For many years, remote workers were looked upon in envy by their traditional office worker counterparts. Shunned for their flexibility and avoidance of the classical working day. Now, in 2021 many of us have experienced what life is like working remotely, though more accurately, we found out what life is like to work from home. Although there are a number of benefits from working from home (WFH), the separation between work and personal life has become increasingly blurred. However, the negatives of working from home cannot be equated to remote working. We need to move beyond the notion that remote work equals "working from home," the options for how to spend your day are pretty endless.
---
Coworking day passes revolutionised how the remote working community operate. Remote workers no longer have to resign themselves to finding a "quiet" corner in a café with poor to average internet speed. All they need to do is go online and find the nearest coworking company and book a day pass. For instance, at Us&Co, a day pass gives full access during opening hours to the coworking area, providing a desk, high-speed internet, access to phone booths, and self-service tea stations with bean-to-cup coffee, all for a nominal fee.
Interested in trying out coworking day pass yourself? Get in touch with the Us&Co team to discuss a day pass or membership at our London Monument, London Stratford or Dublin workspaces.
---
Why use a day pass?
It comes as no surprise that we might be feeling the negative effects of WFH for over a year. Coworking day passes are the solution! Shrug off that feeling of lethargy and start trialling coworking spaces around your area. A great benefit of renting a desk for the day is that it's like shoe shopping; you try one on until you find one that fits, there's no commitment. Especially with the reopening of many cafés, you might feel a bit reticent about overcrowding. Us&Co prides itself on being fully COVID-secure, operating social distancing throughout their centres.
---
How do day passes work?
Day passes couldn't be simpler! All you need to do is go online to your desired coworking space's website, book the day you wish to work, and then on the day, announce yourself at reception, and you're set for the day! Alternatively, call up the coworking space, and their friendly staff will guide you through the booking process over the phone. The only difference between a monthly member and a day pass is that the member has full 24-hour access to the building. Allowing them to come and go as they please. Day passers are limited to the opening hours of the co-working centre.
---
Who would benefit from using a day pass?
In truth, anyone would benefit from using a day pass. If you are in need of a desk for the day, in a productive work environment among like-minded individuals, then a day pass is for you. Specifically, day passes tend to be used by remote workers and freelancers, though by no means limited to those two groups. Entrepreneurs and small start-ups also avail of coworking day passes, as the small price and non-committal nature of the day pass allow you to carry out your own market research. If you travel a lot for work, coworking spaces can become a second office for some, allowing you to have an office away from the office.
---
Productivity
If needs be, cafés can be used in-a-pinch, but they're not the best places to encourage productivity. Coworking spaces strive to provide a work environment that not only facilitates creativity but enhances productivity. Day passes allow you to "plug in" to the productive atmosphere fostered by coworking spaces. Working from your kitchen table for a year not only puts a strain on your back but also on your productivity.  Our homes were never intended to be used as offices. You may be surprised to hear, but poor lighting, air quality and lack of temperature control will have a negative impact on your productivity. Us&Co centres were purpose-built for productivity in mind, with lots of natural light, intuitive temperature and airflow regulation.
---
Cost-Effective
Time is money! You can't spend half the day searching for that "free" elusive corner that ticks all the "conducive workspace" boxes. Paying a small fee that provides all your requirements for the day is a no-brainer. Coworking day passes exist to make your life easier.
---
Networking & Collaboration
Working from home for the past year has really highlighted our need for face-to-face interaction. Coworking spaces are a great place to casually network with people in other industries facilitating new organic working relationships.  Day passes are a great way to meet like-minded people due to the very nature of coworking spaces.  Meeting new people every day tends to incite new streams of thought, opening up new perspectives and ideas, which in turn motivates productivity.
---
Interested in a day pass or more?
Experience Us&Co's professional coworking spaces with a day pass. Why not try our other flexible memberships such as Hot and Fixed desks or rent out meeting rooms in London and Dublin. We pride ourselves on creating a working atmosphere in which budding businesses, SMEs and individuals can thrive and grow.
Our Locations:
– London Stratford co-working space, 11 Burford Road
Phone us: 020 3102 4010 | Email us: enquiries@usandco.com
– London Monument co-working space, 7 Harp Lane
Phone us:020 3102 4010 | Email us: enquiries@usandco.com
– Dublin St. Stephen's Green co-working space, 5 School House Lane East
Phone us: +353 (1) 529 410 | Email us: enquiriesdublin@usandco.com
Meet the team, Valeria Centre Manager Viridis Dublin

How and when did you discover coworking?
I first discovered co-working and serviced offices in 2016; I was looking for a job in Dublin and was hired by a different serviced office provider.
---
When did you become the Dublin Centre Manager?
19 August 2019
---
How would you describe the community?
In the centre I would say that there is a strong sense of community, everyone knows their neighbours and have a friendly chat with them. We have a good relationship with all members, and we try to stimulate them to get involved, get to know each other and interact with other members and us. Some members prefer to stay on their own, but the vast majority enjoys being part of the community. We like getting to know each member and making them feel at home.
---
Do you host any members events to bring the community together?
Pre-Covid-19, we used to host at least one event per month. They are very popular among our members as they get to do something different while networking. Some examples of what we have done are wine and cheese tasting, gingerbread cookie decoration masterclass, healthy breakfasts with a smoothie bowl, pancake Tuesdays. We even had a chocolate fountain for Valentine's Day last year.
I am looking forward to hosting more in the future!
---
What are the enjoyable aspects of working for Us&Co?
I like the complexity of my role. As Centre Manager, I don't simply look after a building. There's sales, customer service, health and safety, maintenance, accounts, customer satisfaction and retention, event planning, team management, a lot of decision making. It's a very varied job, and it never gets boring. The other best part, which I miss the most now that we are mainly working from home, is my team. I believe that teamwork makes the dream work, and I couldn't be happier with Niall and Jayne by my side, helping me.
---
What are the key aspects of managing a coworking space?
I think I said the above, but to rephrase, it involves managing a space or some accounts and dealing with people and their needs. And a lot more. It's complex but fun.
---
What has it been like to manage a centre during COVID-19?
It hasn't been easy; I have to admit. The nature of the job is centre-based and customer based. So it wasn't easy finding the way to reach out to our members and make sure they are doing well, and their needs still met, while maintaining the centre running and covid-19 proofing it. Especially at the beginning, when it was a novelty, we had to come up with a plan on how to handle the pandemic in the centre(s), so a lot of time and energy went into writing policies and updating our house rules.
Also, the team has suffered from it; we went from working together 8 hours a day, 5 days a week, to not seeing each other for literally months. We put together a series of team events called "Livin la Vida lockdown" to help. We would virtually meet to do various activities ranging from Origami to cooking, from drawing to quizzes. That helped a lot, keeping the morale up and the team engaged.
---
Valeria is the Centre Manager at Us&Co Dublin