Contemporary work life is in a state of flux. Thoughtful workspace allocation has become the norm, with modern businesses increasingly looking towards a flexible use of office space to accommodate their employees.
Day offices are an enticing option that businesses have become increasingly drawn to, across the UK. Their flexibility and ease of use have made them a popular option for businesses looking for an office space that moulds to their needs.
---
What is a Day Office?
Day offices are a flexible and reliable solution for businesses who need a temporary workspace for a day, or a set number of days each month. These office spaces are private and fully equipped to allow a business to simply show up, plugin and start working.
Renting office space for 1 day can typically be done on a flexible plan. You choose the day or days you want to rent the office space, and it's then yours for that period of time. Find out more by viewing Us & Co's day offices.
---
The difference between a day office and hotdesking
This may sound similar to hotdesking, but there are some key differences.
While both hotdesking and day office rental is a flexible workspace solution, hotdesking is a little more unpredictable in that your exact workstation can change depending on who else is using the space. 
With day offices, the entire space becomes your private office for the day, meaning you can use it consistently without any disruption for as long as you're renting it.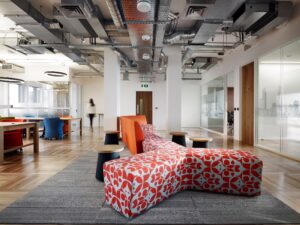 How a Day Office Can Enhance Your Business
If you're a business owner looking for a workspace for your employees, day offices offer a secure, adaptable space that can flex to and around your schedule. The benefits of flexible working are a win-win for employers and employees!
These spaces include workstations built-in for however many employees you need space for, freeing you up from worrying about office furniture.
Many day offices also have convenient amenities built-in, such as kitchen spaces, breakout areas and even some catering options. They're the perfect companion to a hybrid work style if you're looking to balance days working from home and getting your team together in a more corporate setting when desired.
---
Cultivate a professional image without the stress of maintaining an office
Because day offices are fully set up ahead of each visit, they're the perfect way of enjoying an office environment minus the commitment that comes with handling it all yourself. You're free to show up, get your work done, and leave – while maintaining an air of professionalism that comes with having your own space.
---
An office space that flexes around your requirements
Many day offices are not just flexible schedule-wise but are also flexible with the amount of space you can hire. They can cater to businesses of all sizes, whether you need space for 6 or 100 employees. This means your plan can also scale alongside your business if necessary, giving you space to grow without the hassle of finding a new office. 
With more and more companies embracing the decision to work from home, a day office complements the modern working life if you still want to keep an office setting for a few days here and there.
Read our blog on the benefits of renting a desk for the day to find out more about how a day office can enhance your working day.
---
The Employee Benefits of Hiring an Office Space for 1 Day
Day offices aren't just great from an employer's perspective; they can also offer a great work environment for employees to enjoy as well.
---
Collaborative work environment
The biggest thing that working from home is missing for many businesses is a sense of collaboration between team members. If your team benefits from days in the office together, a flexible office environment can be the perfect means of doing so when needed.
Whether you need  a space intermittently or as part of a rolling monthly plan, a day office is a fantastic way of injecting some cooperation and productivity into tasks where needed.
---
A change of scenery for home-workers
If your team is used to regularly working from home, a day office can offer just the change of scenery they need to enhance productivity. There are more pros of working from the office than simply a fresh environment, but the importance of a break from working from home can't be overstated!
---
Unique networking opportunities with other tenants
Coworking spaces present an indispensable opportunity for networking. With a range of other businesses under one roof, it's the perfect environment for sharing ideas and engaging with other professionals on a daily basis.
Outside of your own office space, communal areas are a great space to meet like-minded people and share ideas.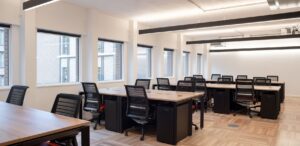 What to Look for in a Day Office Space
If you're in the market for a day office, there are  important considerations to look for when choosing the right space: 
A flexible rental plan that works for your business and workforce

Attractive premises that show your business in its best light

Access to breakout spaces and

meeting rooms

Fast, reliable wi-fi

Regular cleaning services between sessions and robust

COVID-19 safety measures

Location convenience – close to transport hubs and other important amenities
Day offices are designed to give you all the comfort of a top-tier office environment in the most convenient possible package, so choose a space that best fits this brief.
---
Find the Perfect Office Space for a Day with Us & Co 
If you're looking for a flexible office solution in London or Dublin, Us & Co's day offices may be perfect for you. Contact us today to find out more about our gorgeous spaces and to book a viewing.
You can also see virtual tours of our locations below:
London, Stratford – Us & Co Virtual Tour
London, Monument – Us & Co Virtual Tour