So, you've successfully launched your start-up business. You've hired a few employees and it's time to consider moving into a full-time office space. This can be a daunting prospect, but it's also an exciting one ripe with potential.
The importance of a suitable work environment cannot be overstated. There's a long list of things to consider when on the hunt for the ideal office, particularly when you need the flexibility that life as a start-up requires.
In this guide, you'll find tips and some things to bear in mind when searching for your business's first office space, along with pointers on making the right decision for you and your team.
Why the Right Office Space Matters
Aside from the practical benefits of working in a space that has the necessary amenities, there are also benefits to productivity for you and your team to consider. Company culture is important, and the right location can play a substantial role in establishing this culture.
Your start-up's first office space is important for the following reasons:
It will set the mood for your employees – so an attractive office with contemporary facilities is a no-brainer
A healthy work environment has a positive impact on productivity
An office in a strong location sends the right message to stakeholders and potential employees
The right office will act as a springboard as your business continues to grow
A reliable office provides some semblance of stability to your daily workflow. Even when your work inevitably throws up hurdles to overcome, it's important that your office isn't one of them!
Your Office's Location is Vital
Establishing your team in an appropriate location is one of your chief priorities when office hunting. Making your base in the right location will set the tone for your team, your partners and your clients.
Choose an office in an area that will serve you well with the people close to your business, with good access and close proximity to fundamental services like restaurants and transport hubs. Also consider things like the availability of natural light in the office, as natural light can improve workplace productivity as well.

Determine What Facilities You Need in Your Office
Getting together a list of desired amenities for your start-up's office space is another crucial consideration to make before you begin your search. This will vary from universal considerations – like meeting rooms and recreational space – to facilities that are more 'nice-to-haves' or specific to your field, like breakout spaces, standing desks and office equipment exclusive to your industry.
Some common ones to think about are:
Meeting rooms
Breakout rooms for employees
Office layout
Kitchen equipment and space
Leisure space
General office equipment you want for all your employees
Parking
It's important to balance the essential facilities you offer with additional bonuses that contribute to your workplace culture and employee wellbeing. Flexible working is becoming increasingly desirable for employees and employers in the UK, so providing a means of facilitating this for employees where possible will go a long way.
How Much Office Space Do We Need?
Space is another key consideration. Of course, the size of your desired office will depend on the number of team members you have, and whether you're planning to continue growing in the near future.
As a rule of thumb, we'd recommend a minimum of 40 sq. ft. per employee for everyone on your team to remain comfortable. You'll also want to consider things like meeting room space, which won't require as much permanent space per employee, but still enough to accommodate your whole team comfortably.
Private office floors to rent may be an appealing option, but a co-working office space is viable as well, especially for smaller start-ups that need an adaptable arrangement that can change on a monthly basis.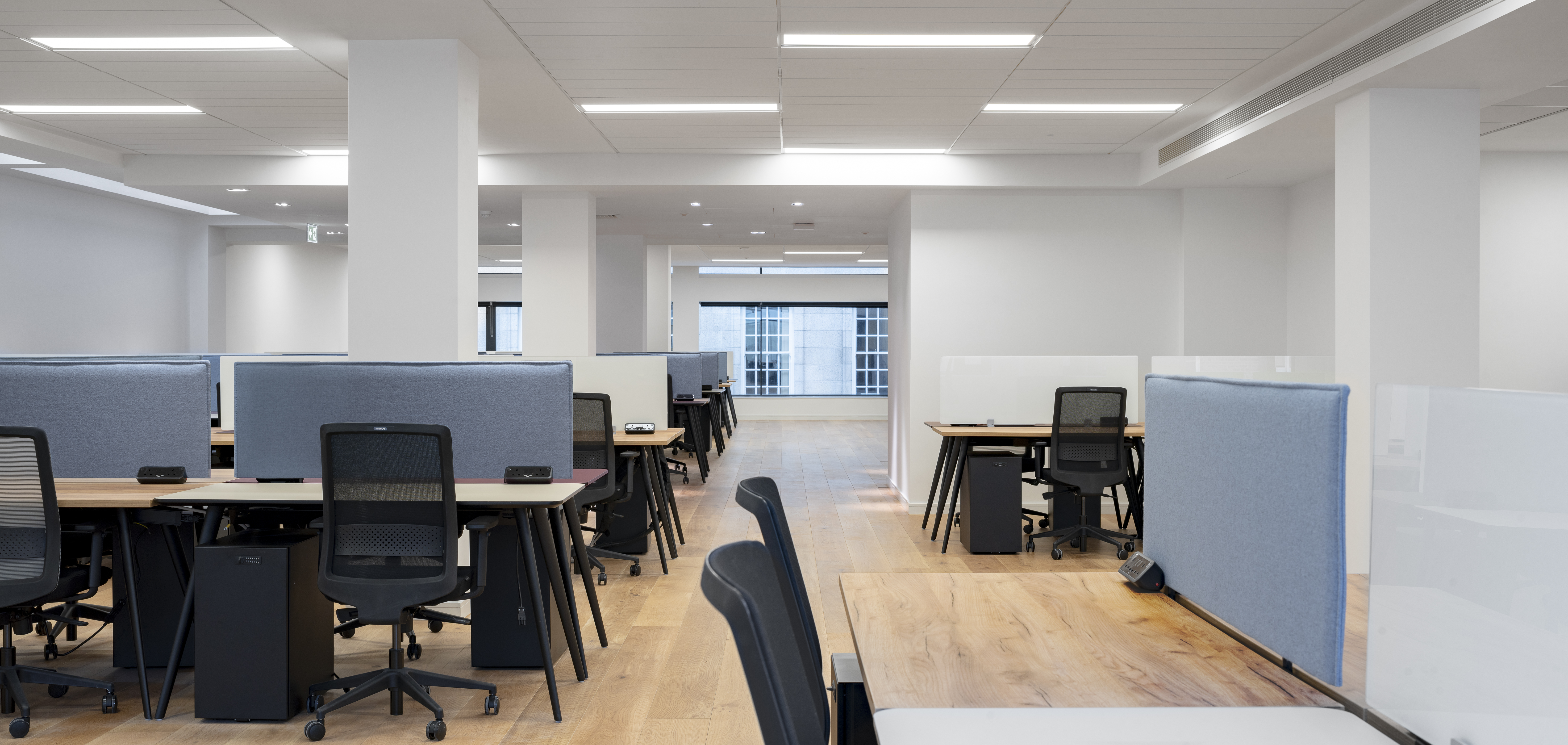 Understand Your Budget and Costs
For start-ups, defining your office budget is very important, particularly seeing as your income may vary from month to month.
As such, a serviced office space can be a real winner, offering a single-package deal that covers every cost of using the space. Serviced office spaces typically offer this arrangement, which is part of what makes them so popular with start-ups (alongside the opportunity for networking with other businesses in the building).
At Us & Co, we offer rolling monthly flexible office memberships on co-working spaces – the perfect solution for start-ups who require a greater sense of flexibility. With this membership, space can be increased or decreased as needed, giving you an office that moulds to your needs even as your business evolves.
Consider Utilising a Co-Working Space for Unrivalled Convenience
The benefits that come with a co-working space – alongside the convenient membership package you'll find with such an arrangement – make it well-worth investigating for start-ups who need office space that grows alongside your business and team.
Start-up life is constantly in flux, so you may find yourself in need of an adaptable work environment that gives you room to grow and takes the hassle out of running an office. If you're based in London or Dublin, our serviced spaces could be the perfect solution for you.
A co-working space also typically comes fully furnished. All you'll need is the personal essentials your workforce uses day-to-day – just turn up, plugin and you're ready to go.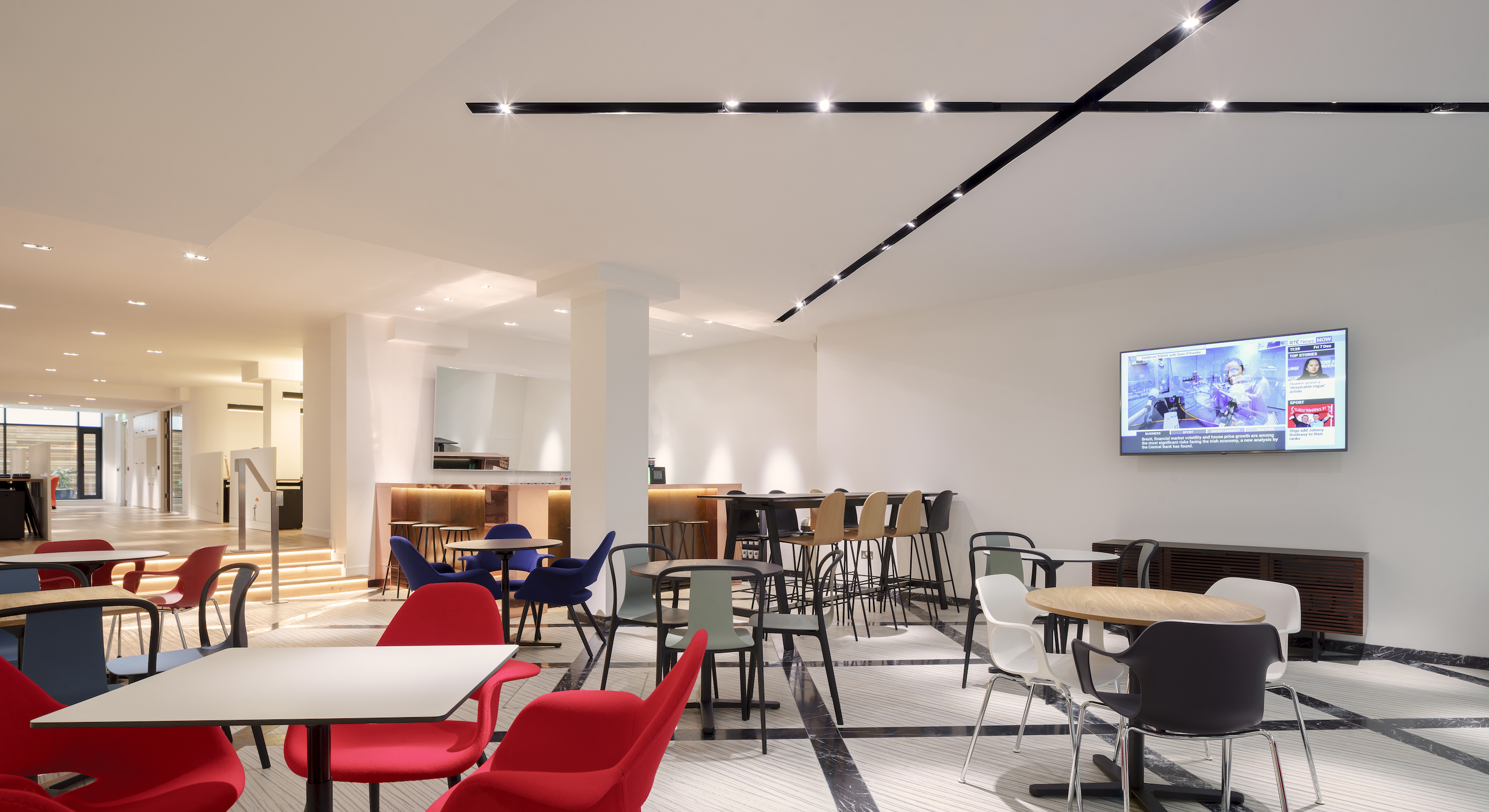 Enquire About a Coworking Office Space for Your Start-Up Business
If a co-working arrangement sounds like your ideal start-up office space, get in touch with us today to find out about membership with Us & Co and to book a tour of our office spaces.
With co-working facilities in London and Dublin, we're fully equipped to facilitate start-up businesses from a range of industries in the UK and Ireland.
Whether you're a team of 4 or 100+, our range of options has something for you. Browse a virtual tour of each of our 3 locations below and give us a call if you'd like to find out more.
London, Stratford – Us & Co Virtual Tour
London, Monument – Us & Co Virtual Tour