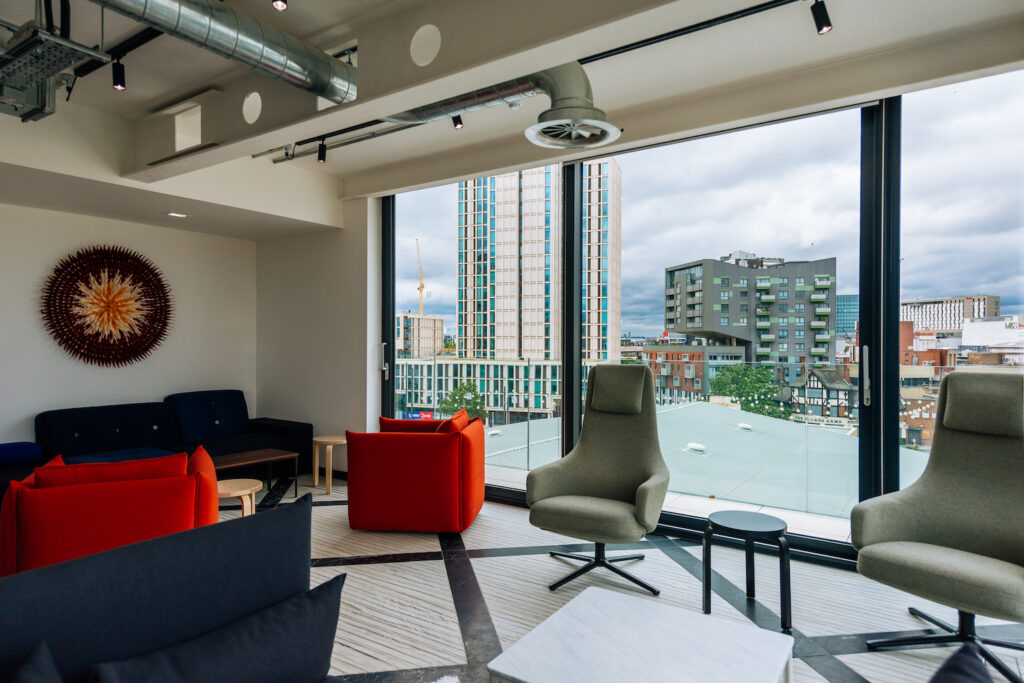 Due to COVID-19, the future of the traditional workplace is uncertain. With many businesses now faced with unforeseen difficulties, namely creating socially distanced zones in the offices for employees and providing flexible working options. The need for more usable, flexible space has become of utmost importance.
In light of the global crisis, many companies are now offering flexible or remote working to their employees. The last few months have shown us if nothing else, that businesses can adapt.
---
But what does this to mean for the traditional workplace? 
In a recent survey done by Hubble HQ, 70% of office employees had a positive experience working from home with many choosing to work from home in the future. However, the study indicated that those in favour of working remotely were aged 41 years or older meaning the younger generation preferred the traditional office environment.
Even so, the survey showed that regardless of age, all office workers found they missed face to face meetings with clients and colleagues. At Us&Co we have a range of meeting rooms available to hire by the hour.
Due to this uptick in remote working, 47% of companies globally are planning to make remote working a permanent option, as shown in a study by PWC. For instance, chief executives from Barclays and WPP are looking into a de-centralised approach to working. Nevertheless, after the pandemic, many workers will continue to work flexibly by splitting their time between home and the office.
---
Office De-Densification
For large companies, this new trend will help navigate the de-densification of office space. Following a return to work, companies may need to de-densify or use a staff rotation method by splitting their workforce into teams. Considering all businesses were under-prepared at the start of the year, many companies are organising for all eventualities. With the likelihood of the pandemic returning, and in turn the restrictions, many companies will be implementing social distancing measures by ensuring there is enough space for employees. By using a staff rotation method, they help certify their office is de-densified. Some companies may need temporary office space, with complete flexibility and without commitments to accommodate the remaining workforce.
In doing so, they need a flexible solution away from the traditional leases.  Book a tour of a private office space here.
---
Flexible Terms
Businesses, in these uncertain times, will be reluctant to sign a long lease. Being able to have the flexibility to shrink or expand the business when necessary is hampered by the traditional long leases of 3 years or more. Serviced office and co-working spaces deliver the perfect solution for business moving towards short to medium term flexible contracts.
For large or small businesses, serviced office providers offer this needed flexibility. Also, the flexibility of working in a serviced office space is that all utilities and amenities are all included in the monthly licence fee. This takes the hassle out of ordering office furniture, organising a cleaning service, setting up bills, WiFi or providing refreshments for your employees. Find out more about Us&Co's private offices.
---
Coworking as a solution
Co-working spaces like Us&Co, provide a short-term flexible solution which offers freelancers, small or even larger established businesses the freedom to use the space when needed. Ranging from a day pass to a monthly membership.
Co-working can be a cost-effective and adjustable solution. Taking one or several fixed desks on a rolling month contract provides flexibility without any commitment or hidden costs.
Many co-working and serviced office providers also offer access to bookable meeting rooms. Us&Co's meeting rooms are equipped with high-tech audio/visual technology and fast WiFi, allowing easy video conferencing or in-person presentations. Each room undergoes a fogging service which is certified to protect from contamination and lasts up to 30 days.
---
Get in touch with Us&Co today:
London Stratford co-working space, 11 Burford Road
Phone us: 020 3102 4010
Email us: enquiries@usandco.com
London Monument co-working space, 7 Harp Lane
Phone us:020 3102 4010
Email us: enquiries@usandco.com
Dublin St. Stephen's Green co-working space, 5 School House Lane East
Phone us: +353 (1) 529 4100
Email us: enquiriesdublin@usandco.com