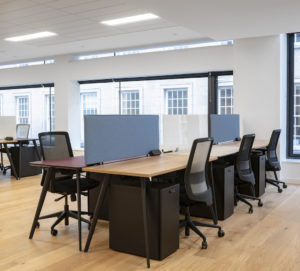 Us&Co are now offering Flexible Office Memberships– flexible solutions adapted to the new ways of working. If you and your team will only be using the office for a set number of days why pay for a full-time office agreement? With our Flexible Office Membership, you only pay for the days you use.
The same goes for the size of the office- if your staff will attend the office and work from home on alternate days, downsize to a smaller private office suitable for your needs but still retain the same number of team members who have access to the office.
---
While home working is not a new trend, there has been an exponential increase in 2020, due to the global pandemic. The past several months have compelled businesses to evaluate their office costs with many contemplating the necessity of having an office space at all. Though we will see large and small companies, decentralising their base of operations and incorporating remote working into company practices, the majority of businesses will need to maintain some form of centralised office space. According to a survey carried out by Hubble HQ of 1,000 employees from various companies, 70% said they had a positive experience working from home, but 71% of those surveyed believed their company should retain an office space of some sort.
---
Nevertheless, with restrictions still in place for the medium term and with greater percentages of team members working from home, the way offices are used will change. Companies which are splitting their teams and placing them on rotation throughout the week may be left with an office space unnecessarily large and costly for their needs. Serviced office providers like Us&Co are creating solutions for companies in these situations. Working in the office on alternate days, you can take a five person office and Us&Co will issue you ten access passes or one hundred passes if you take a large fifty-person office. Us&Co's Flexible Office Membership can help businesses cut rental costs in half and still allow them to have an office presence.
---
Us&Co prides itself on tailored solutions. The flexibility of this membership can be adapted to the specific needs of each company. For instance, if you need an office one day a week, you only pay for that day. If you require three days per week or even a week per month, Us&Co can adjust the plan to suit your requirements. With Us&Co's Flexible Office Membership, you no longer have to worry about the cost of an unused office, you pay for the space you use on the days that you need it.
---
Us&Co provides an all-inclusive solution without a long-term commitment – a membership can be just three months. You avoid the need for capex and the hassle of setting up and managing an office: ordering office furniture, organising a cleaning service, sourcing and paying suppliers, managing the Wi-Fi and providing refreshments for employees – it's all done for you. The offices have been fully equipped to be Covid19-secure and members benefit from spacious break-out spaces and meeting rooms which are available for hire as needed. Us&Co allows companies to try out their new ways of working without potentially abortive expenditure and commitment.
---
Get in touch with Us&Co today:
London Stratford co-working space, 11 Burford Road
Phone us: 020 3102 4010
Email us: enquiries@usandco.com
London Monument co-working space, 7 Harp Lane
Phone us:020 3102 4010
Email us: enquiries@usandco.com
Dublin St. Stephen's Green co-working space, 5 School House Lane East
Phone us: +353 (1) 529 4100
Email us: enquiriesdublin@usandco.co